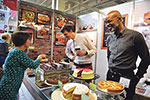 It is the ultimate celebration of the very finest food and drink.
Speciality & Fine Food Fair 2017 returns to Olympia, London from September 3rd-5th; providing a trade destination for those looking to discover new innovation, trends, and inspiration in this diverse and dynamic sector.
The Fair will host more than 700 food and drink producers from across the UK and much further afield. From heritage brands which are generations old, to start-ups launching into the market, it is a vibrant and exciting platform of discovery for buyers across retail, foodservice, hospitality, and wholesale.
Gourmet gems include: mini Merangz drops from Flower & White; Texan handcrafted condiments from The Sweet Beet; an inspiring range of premium, frozen ready meals from Gourmade; natural, herbal teas from teatime; luxury skin-on potato crisps from Savoursmiths, and all natural, vegan Turkish Delight from Truede.
The line-up also includes: Neat's Snacks, A Little Bit, Love Cheesecake, Pieminister, Labi Beer, May Wines, Kold Group, Oryx Desert Salt, Sauce Shop, and Nonya.
A host of visitor attractions, including Savour the Flavour: Live Kitchen, Great Taste Deli and Food for Thought workshops, will offer insights, practical advice, and tips from key industry figures and chefs. New this year is Speciality Chocolate Trail which will take visitors on a journey of gourmet chocolate and premium confectionery.
www.specialityandfinefoodfairs.co.uk
www.twitter.com/Speciality_Food
www.twitter.com/SpecialityChoc
www.specialityandfinefoodfairs.co.uk/facebook
www.specialityandfinefoodfairs.co.uk/linkedin