To mark their continued collaboration, Absolut Vodka and Tomorrowland festival have collaborated on a limited-edition bottle.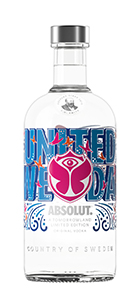 The Absolut x Tomorrowland bottle for 2022 has a design full of energy and vibrancy, with the Tomorrowland Icon placed at the centre. The butterfly symbolises freedom and the beauty of nature – a way to express the purity of the human soul and its playfulness. The crown reminds us that we are one world in which we are all equal, and the eye inspires us to see the beauty of life.
The bottle, created as part of the United We Dance campaign, has been designed to illustrate the brands' shared values of inclusivity and diversity; together they believe that what unites us is stronger than what divides us. It will be available in Germany, Benelux, Slovakia, Serbia and Switzerland.
This year, Tomorrowland and Absolut are also spotlighting six under-represented artists. Artists Mandidextrous, Jana Vitiligo, RayRay, Carola, Odssey and Moore Kismet will be given the biggest stage of their career during this year's three-weekend long edition, allowing them to shine as individuals and empower and inspire millions of others through their representation.
Tomorrowland takes place on 15-17 July; 22-24 July; and 29-31 July in Boom, Belgium. Find out more at: Tomorrowland – United We Dance