TC Facilities Management (TCFM) joined Centre Manager, Ailsa Fraser and other members of the Eden Walk team at an awards lunch to mark its achievement of attaining the British Land Customer Service Silver standard.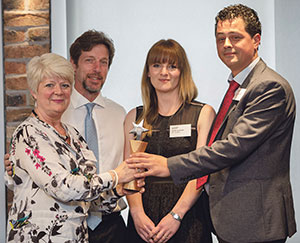 The awards were held in London on 9th May where more than 300 people were in attendance.
The British Land Customer Service awards were first introduced in 2016 after the national roll out of its Customer Service Standards across its complete retail, office, and development portfolio covering 25m ft2 of floor space across the UK.
The British Land Customer Service standards focus on a number of areas ensuring delivery of a safe and enjoyable shopping experience. Having achieved the Bronze standard in 2016, as part of the contract award process last year, TCFM proposed a number of measures that the team would contribute to Eden Walk's goal of achieving the Silver standard. On the back of the latest award, TCFM is already discussing with Eden Walk how this achievement can be built on to ensure that each and every visitor receives an outstanding experience at Eden Walk.
TCFM, alongside utilising smart management systems and state-of-the-art technology to help maintain and improve operational standards, has invested time in training and coaching to ensure that its staff contribute to delivering unrivalled customer service and value to every visitor at Eden Walk.
Ailsa Fraser, Eden Walk's Centre Manager, said, "The British Land Customer Service Programme has just completed its third year. It has proven extremely successful in changing the attitudes of staff and colleagues towards our customers and to each other. It has ensured that British Land Shopping Centres stand out amongst the rest."
Cosmin Tecuta, Contract Manager for TCFM, commented, "We are delighted to be able to celebrate Eden Walk's achievement in attaining British Land's Silver Customer Service Standard. This achievement is testament to the hard work that Ailsa and her team as a whole, of which TCFM is a part, have invested in making Eden Walk a great shopping destination in South West London. Our team of cleaning operatives and security officers from TCFM are overjoyed that the part we have played has contributed to Eden Walk's success."
T +44 (0)1737 814016
info@tcfm.co.uk
www.tcfm.co.uk