Food and Drink Matters is pleased to announce that world leading wine specialist Enomatic have received the much deserved Wine Storage Company of the Month profile for their outstanding wine centred services.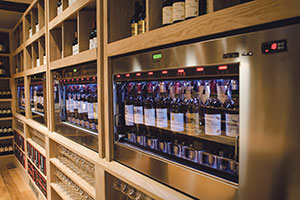 Enomatic specialise in supplying wine preservation and dispensing systems which can be used in bars, hotels, restaurants, wine shops and more. Their cutting edge products feature a range of benefits, such as wine preservation, waste reduction and accurate portion control. Experts in every facet of the wine industry, Enomatic's systems are fully comprehensive, mitigating every risk that could compromise wine quality.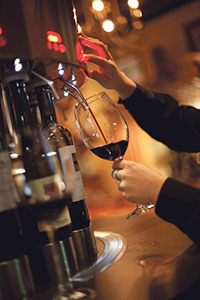 The systems maintain an optimum temperature for wines, ensuring they are always served fresh every time. Not only that, but the systems use patented preservation technology to prevent oxygenation of the wine, a process which harms taste and quality. The highly sophisticated inert gas preservation method has been tested and certified to protect the wine's organoleptic integrity, keeping the taste, aroma, body, and colour intact for up to and over 21 days.
Normally, oxidised wine presents a loss in profit for businesses as they are more often than not thrown out. As the Enomatic system protects wine quality, not only does it reduce waste but it also optimises profits. Proper hygiene is also integral to high quality wine, with the Enomatic system featuring an automatic self-cleaning valve function for the pouring spout, thus preventing any wine from remaining in the pouring spout after delivery.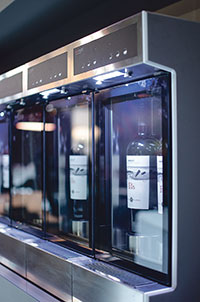 Another cause of profit loss is in over-pouring. Enomatic's precise automatic portion control solution prevents not just over-pouring but inventory shrinkage too. One of Enomatic's most innovative features is their highly impressive software functionality which is specially designed to boost efficiency, work productivity and even safety. This feature gives users the ability to track all the wines currently in the system, and even show each individual customer's wine consumption thanks to the card operation. If a customer is deemed to have consumed too much, then as a business you have the ability to temporarily disable the card.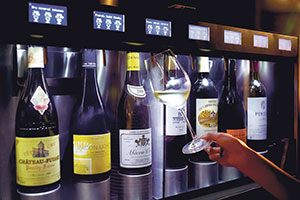 Visually, the Enomatic systems are eye-catching and stylish, presenting the tantalising bottles towards the customers in a smart, rectangular, built-in display case. There are a number of different systems available which offer different sizes, designs, capacities and more. These include the Eno One, the Elite, the Enoround, and the North Pole ICE for spirits, plus other specialist equipment like the WineGEN Nitrogen Generator.
Staff will find the system incredibly easy to use, selecting and serving wines with a simple push of a button, and removing the need to re-cork or vacuum bottles after use. This allows staff to work faster, for sales to generate faster and for profits to climb faster.
If you operate in the wine industry, have a business serving or selling wines, or are simply a wine enthusiast, then don't hesitate to get into contact with Enomatic today and find out how to get your hands on their state of the art systems. For more information on how Enomatic can meet your needs, be sure to check out the website listed below.
T 01603 768046
www.enomatic.co.uk