Food and Drink Matters is proud to announce that Body and Mind Botanicals has been selected as our Health and Wellness Company of the Month.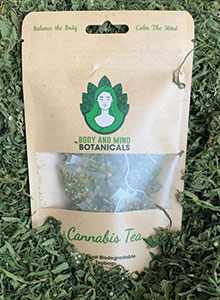 The idea for the company formed in January 2016, when Michael Fitzgerald discovered the benefits of CBD after researching how it can help with MS, which a very close family member suffered with. After learning about the benefits he started to take CBD oil himself. He was frustrated at the lack of product quality consistency and misinformation, so he spent 12 months doing solid research before establishing Body and Mind Botanicals with his friend and business partner, Martin Kaprockyj.
With its head office and factory in Northamptonshire, Body and Mind Botanicals grows and produces cannabis on its own organic certified farms in Europe. This cannabis is naturally low in THC and high in CBD, and the company uses it to make loose leaf tea, individual tea bags which are biodegradable and are also available with a peppermint infusion, and CBD oil which comes in four strengths ranging from 150mg–1000mg.
"We are very different from other CBD companies out there," explained Emma Bright, Marketing and PR Director. "First of all we have full traceability of our product. We are part of the whole process, from when it's a seed in the ground to when our customer is drinking it at home. No other company in Europe grows this strain of cannabis, and our secret methods of harvesting and reintroducing fats back into the dried plant set us ahead of the competition. You will not find another tea that has this beautiful flavour and has 30–40mg of CBDa per cup! Because our plant is completely natural and raw it is the best way of getting CBD in your system. CBDa is the raw form of CBD and this makes it faster acting – many of our customers feel the benefit just 10 minutes after the first cup!"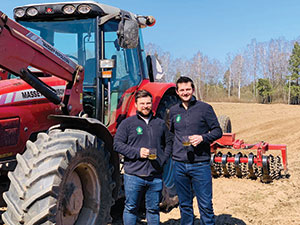 Body and Mind Botanicals' outstanding range of teas uses a unique mixture of buds and leaves to create a beautifully fresh flavour. The teas have been independently lab tested, and have been shown to help people relax, sleep better, and relieve stress, anxiety and low moods. The teas have also been shown to be a great anti-inflammatory and may help with pain relief.
What's more, developing these exceptional products is only part of the company's mission. "Because this business comes from personal experience, we not only want to sell our products and help people, we want to educate our customers," explained Michael. "If they have any questions we are always there to answer them and help in any way we can. This is also the same for the stores that sell our products. We do tea tastings outside shops so we not only educate the customers but also the store staff, adding to our team of cannabis experts."
With the company's initial few years being so successful, Body and Mind Botanicals is only continuing to expand. "Recently, we received an investment from a prolific retail business person and we are in the process of closing a fresh investment round which has seen the company's valuation grow over 700%," Martin said. "We have invested heavily in machinery and building the best possible team, and we recently secured Vegan Society approval, HASAP and GMP, and we are just a few weeks away from having end-to-end certified organic status to match our certified organic farms. We have also doubled the size of the farm this year, and plan to double again next year."
Without a doubt, Body and Mind Botanicals is cementing its position as a pioneer in the European cannabis market, and has expansion plans for farms in Zimbabwe, LA and Canada with plans to distribute globally. For more information, get in touch using the details below.
T 01234 988420
www.bodyandmindbotanicals.com