Food and Drink Matters is pleased to announce as this issue's Natural Food Company of the Month, Seaweed & Co.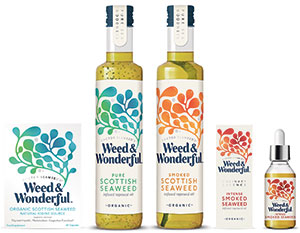 Seaweed isn't weird, it's wonderful. This sentiment is becoming increasingly apparent throughout Western consumer markets, and is contributing to a notable rise in interest in seaweed based products. The indisputable blend of nutrition and health benefits combined with the effortlessly palatable flavours make for an unrivalled superfood. But if this is the case, why aren't we seeing seaweed products flood are supermarket shelves, you might ask. The answer, regrettably, is a silly one. People tend to think it's weird.
One company unwaveringly dedicated to exposing the nonsensicality of this attitude, is Seaweed & Co. Established in 2015, by marine biologist Dr Craig Rose (aka Doctor Seaweed), Seaweed & Co. harvests seaweed from the untainted and boundless beauty of the Scottish Outer Hebrides, applies unique patent pending production methods to the harvest, and produces a host of seaweed products designed to offer sensationally tasting and healthy guilt-free consumables.
Of the many benefits that seaweed consumption offers, one is its sustainability. Harvesting seaweed comes at no great cost to the environment, and is achievable all year round. Relying on the rare British sunshine to obtain produce is a needless task when the produce in question is seaweed. With pressure mounting on companies to exhaust alternative production methods to environmentally unfriendly traditions, sustainable seaweed harvesting is a no-brainer.
Seaweed & Co. has two sides to the business: PureSea® seaweed ingredients, and Doctor Seaweed's Weed & Wonderful consumer products. Let's start with PureSea®. The range of seaweed ingredients is made up of three offerings, PureSea Natural, PureSea Smoked and PureSea Protect. The three products come as a powder and granules, the uses of which are multiple and diverse. The PureSea range is multifaceted with the nutritional benefits, flavour boosting properties, and to address aspects of obesity and diabetes that are achievable through adding seaweed to your diet, thus encompassing the true essence of what the company stands for.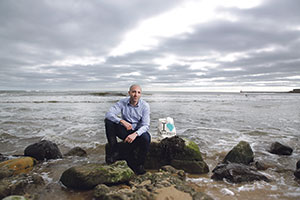 Doctor Seaweed's Weed & Wonderful is a line of four organic consumer products: three culinary seaweed infused rapeseed oils and pure Scottish seaweed capsules. As well as being an overall nutrition powerhouse, the pure seaweed capsules are a natural vegan source of iodine, which, given the state of the UK's current iodine deficiency level, is a welcome and much needed attribute. The first of the three oils is the Smoked Scottish Seaweed Infused Oil. This naturally smoked organic oil infused with smoked seaweed wonderfully enhances flavour and can be drizzled over grilled fish, roast vegetables or dips to give the dish an incredible mild smokiness. Weed & Wonderful's Pure Scottish Seaweed Infused Oil offers mild umami flavours of the sea and is ideal for adding to salad leaves, steamed vegetables and roast veg. Lastly, the award winning Intense Smoked Seaweed Infused Culinary Essence is ideal in the final stages of cooking or to be applied to the finished dish, with a wonderfully intense smoked flavour of the sea that really makes you wow!
The range of products offered by Seaweed & Co. is indicative of quite how passionate the company is about offering healthy foods without sacrificing flavour, and ensuring the benefits of seaweed are delivered in truly accessible and appealing ways. The care with which Seaweed & Co. harvests and develops its products is the kind you'd hope to see from any company, but unfortunately seldom do. Indeed, it is only a matter of time before Seaweed & Co. is a household name and flavouring healthy dishes nationwide. For more information see the details listed below.
T 0191 308 2222
info@seaweedandco.com
www.seaweedandco.com