In the on-trade brand presence is key, Bowimi enables drinks brands to get their products into the hands of consumers at the point of sale in a seamless and engaging way while eradicating the need to download or keep apps on their phone.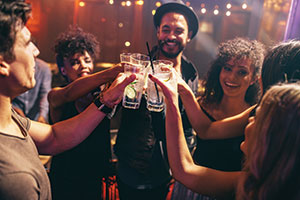 When a customer visits one of Bowimi's many venues, they can connect to Bowimi WiFi and receive an SMS message when certain brands are giving away complimentary drinks which can then be redeemed at the bar.
Not only does this heighten the consumer experience, it incentivises customers to return to venues and brands as well as aiding brands in establishing target audiences and enlarging brand presence. With Bowimi, the relationship between brand and customer is personalised to an extent seldom found elsewhere on the market.
Bowimi is not only ideal for the consumer, and large brands, but also for start-up drinks brands looking to expand their market presence and build a strong identity. By making the product more accessible to the customer, Bowimi enhances the consumer experience almost immeasurably. For more information on Bowimi, get in touch via the details below or visit the company website.
M 07766 837476
dom@bowimi.com
www.bowimi.com