Coca-Cola HBC Switzerland announced today that its mineral water brand, VALSER, is the first Swiss water brand to be sold in bottles made 100% from Swiss recycled PET plastic (rPET). This follows recent Coca-Cola HBC announcements in Ireland and Austria, where water brands Deep RiverRock and Römerquelle are now also sold in bottles made from 100% rPET.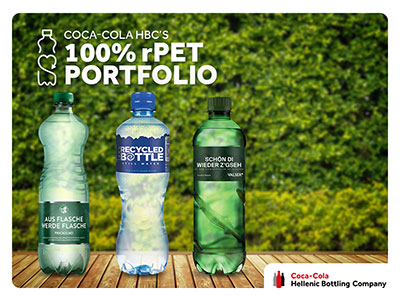 Marcel Martin, Group Supply Chain Director, said, "Valser is the third major water brand that we have launched in bottles made from 100% recycled PET. We will soon increase this to four brands in four markets. This is a great achievement that represents a huge effort to overcome the significant technical and manufacturing challenges. It is also clear evidence of concrete progress on the commitment we and our strategic partner The Coca-Cola Company have made to be active and effective on this critical environmental issue. Clearly there is more work to do in building systems and approaches that allow us to collect and recycle more of our packaging materials, but this is a big step forward in ensuring that plastic already in circulation is reused and given more than one life."
Today's Valser launch is another step in Coca-Cola HBC's comprehensive, multi-year plan to directly address packaging issues across the 28 markets in our group. This approach – World Without Waste – is an initiative shared with our strategic partner The Coca-Cola Company and aims to make all our consumer packaging 100% recyclable by 2025 and ensure that our packaging is made of at least 50% recycled material by 2030. Alongside these targets we aim to collect and recycle the equivalent of a bottle or can for each one we sell by 2030, to design more sustainable packaging and to partner with NGOs, customers and stakeholders to find and implement innovative solutions.
VALSER is Switzerland's most sustainable mineral water. Not only have we introduced 100% rPET bottles, but the brand is also pioneering a method of getting its fizz for its sparkling water directly from the air, in partnership with Climeworks. The shift to 100% rPET will start immediately, with the 0.5 litre bottle of VALSER Sparkling. All PET bottles will consist of 100% recycled material by the fall of 2019.
Patrick Wittweiler, Head of Sustainability and Quality at Coca-Cola HBC Switzerland, said, "Sustainability is not just important to us, but also to our consumers and customers. That's why we have been working on our sustainability agenda for many years now, and why we make every effort to reduce our impact on the environment. The shift to 100% rPET is a milestone in that agenda, and one we are very proud of."