Premium tequila brand Cazcabel Tequila are delighted to announce the launch of a brand new bottle across their entire range.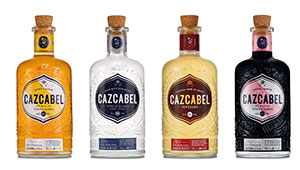 The bottles have had an upgrade of the highest calibre to match the top-quality liquid they hold.
The stunning traditional Mexican-inspired pattern that once decorated the Cazcabel label, has been transferred onto the glass of the bottle. This translates to an attractive embossed custom glass mould featuring elements of the core branding.
The bottles are also now more bartender friendly, due to the taller, thinner structure and an extended lip on the bottle neck.
Distributed by Proof Drinks in the UK, Cazcabel Tequila have experienced impressive year on year sales growth since launching in 2014. The brand has experienced particular success in the export markets recently, including The Netherlands, Germany, South Africa, Australia and Canada.
Cazcabel received outstanding recognition in The Spirits Business Tequila Masters 2019, when they took home three Gold awards for the range.
The tequila is created in an independent micro distillery in the town of Arandas, located in the highlands of the Jalisco mountains in Mexico. Inspired by the mythical Mexican Curador 'Don Cazcabel', the philosophy of the tequila is centred around taking natural ingredients from the land and giving them new meaning and life. Cazcabel is crafted from locally sourced, blue weber agave grown for around 7 years before harvesting.
The range includes Cazcabel Blanco, which beautifully balances the agave's earthy notes with a fresh, citrus edge; Cazcabel Honey, the world's first honey tequila, which adds a splash of manuka sweetness to the dry Blanco; Cazcabel Coffee, which blends a roasted hit of luxury espresso to the spirit; and Cazcabel Reposado, rested in American barrels for 8 months to balance the earthy agave with subtle aromas of toasted Oak.
The new bottles will start appearing in trade over the next 4-6 weeks.
For all enquries, please contact PR Manager Imogen Stuckes: info@proofdrinks.com