If diversifying your food offering through barbecuing appears an attractive revenue stream for your business, look no further than the most reliable commercial barbecue around – the Cinders 'Classic'.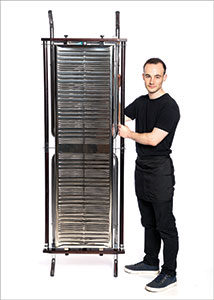 This heavy-duty barbecue's unique and patented stainless steel grill top is the secret to its success and longevity. Grilling food swiftly and evenly, whether you are serving up burgers and bangers, succulent skewers or something novel like goat or Vietnamese Bun cha.
With 35 years at the top, this robust barbecue will not let you down, keeping diners happy with speed of service and quality of food. With an optional griddle attachment, to possibly dedicate to vegetarian or vegan dishes, and another option – a pan support to suspend gastronorm containers over the barbecue to keep pre-prepared dishes or breads warm, or move to the side for cooler side dishes, everything is as the chef's fingertips.
Once all are fed, the chore of cleaning is removed by internal self-cleaning by reflected heat and you can use the griddle to make this even swifter. In no time at all, you can be folding down this low-maintenance barbecue with commercial warranty, and storing it away.
To find out more visit www.cindersbarbecues.co.uk or call 01524 262 900.