When it comes to food safety, efficient dust control is a must if you want to ensure you're meeting the requisite industry standards.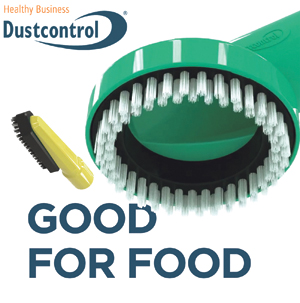 Dustcontrol UK's Good For Food brushes are designed specifically with the food industry in mind and tailored to suit its requirements, offering a unique combination of properties. Antistatic and ESD certified, they can be used in Atex Zone 22, where dust explosions can occur. They are also approved for food surface contact, being both FDA compliant and the European equivalent.
The brushes are colour coded, covering five handle colours and two interchangeable brush colours, which allows their use for different applications in the factory, different areas or even for different days of the week depending on need. In addition, their material composition makes them detectable via metal detector as well as being autoclavable up to 121 degrees Celsius, allowing for high pressure saturated steam cleaning.
The brushes can work in conjunction with Dustcontrol UK's high-quality extraction equipment, ensuring food hygiene areas are the cleanest they can be – keeping the potentially serious side effects of dust to a minimum.
T +44 (0)1327 858001
sales@dustcontrol.co.uk
www.dustcontroluk.co.uk