In this issue of Food & Drink Matters, we are delighted to select Fallowcopse Feeds as our pet food industry Company of the Month.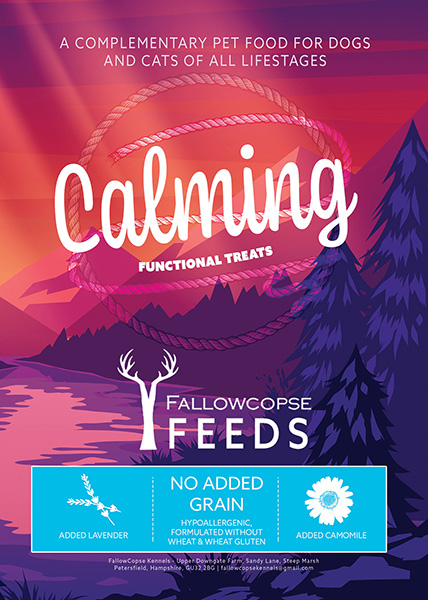 The latest PDSA Animal Wellbeing (PAW) 2023 report shows that 29% of UK adults have a dog, which equals to 11 million dogs. That is an increase of 2.7 million dogs from 2011, proving that we are indeed a nation of dog-lovers. One of the best ways that we can maintain our dog's peak physical and mental health, is through a highly nutritious daily diet, packed with vitamins and minerals. The Dog's Trust charity recommends a balanced diet for each stage of a dog's life: puppy, adult and senior, with due care given to activity and metabolism levels. Obesity in dogs can sadly lead to painful arthritis, diabetes and heart disease, so giving puppies a healthy, balanced diet allows them the best start in life.
Fallowcopse Feeds is a leading UK supplier of complete pet food for dogs of all ages and breeds. Established in 2022 by professional dog breeder, Jordan Bogris, the food product range is both delicious and wholesome. Based near Petersfield, Hampshire the company provides high-end kibble that your puppy or adult/senior dog will love, like British grass-fed lamb or free-range turkey. We spoke to owner Jordan to find out more,
"Fallowcopse Feeds provide a top-quality kibble for all dogs from puppies to seniors and everyone in between. The range includes: a selection of recipes with the finest freshly prepared raw meat gently cooked to protect the valuable protein, plus a blend of nutritiously-beneficial superfoods.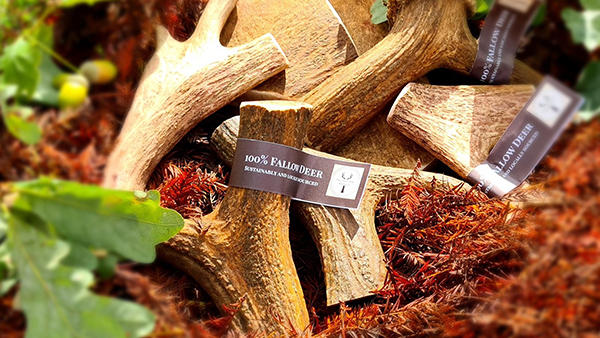 We use a new technology which cooks the meat at a gentle 90° temperature, locking-in the freshness and protecting the protein. We understand that pets know fresh is best: that's why fresh meat is our passion. Using a unique process, we develop recipes that use the highest levels of fresh meat and provide our dogs with the most flavoursome and nutritionally beneficial meal choices. Fallowcopse Feeds has a much higher nutrient bio-availability, higher digestibility ensuring better health and wellbeing through superior quality and nutrition. Our recipes provide a variety of superfoods, prebiotics, vitamins, minerals and naturally occurring collagen."
The complete dog food ranges use only the highest-quality meat protein and blend of superfoods like pomegranate, ginger and mulberry. The kibble contains none of the following ingredients, for added assurance:
wheat
gluten
corn
syrups
BHA/BHF
artificial food colouring
bi-products
MSG
salt/soy
Dog owners can easily order the kibble from the website in a choice of 6kg or 12 kg. For new customers, it is advisable to gradually mix the new kibble in with existing dog food over a period of two weeks, allowing for taste adjustments and to keep an eye out for any digestive issues. The range includes delicious grain-free varieties for puppies and adult dogs with sensitive digestive tracts:
Angus Beef
Pork
Duck
Salmon
Chicken (puppies)
Salmon (puppies)
Turkey (for small-breed puppies)
"Our new hypoallergenic grain-free turkey complete dog feed for small-breed puppies contains turkey, duck, sweet potato, dill and camomile, providing both a nutritious and calming meal. Turkey is a lean protein source, rich in essential amino acids, low in fat and a good source of essential nutrients such as riboflavin, potassium and selenium. Duck is a lean, nutrient-dense source of protein and also provides nutrients such as iron, selenium, B vitamins and zinc, which contribute towards general health and wellbeing.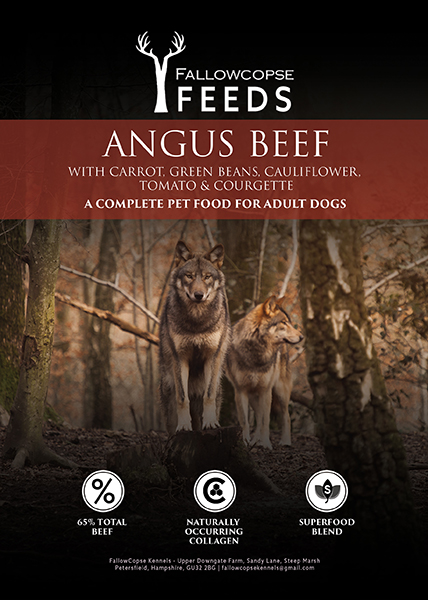 The added dill is a good source of vitamin C, which has an essential role in collagen synthesis: important to help maintain healthy bones. Finally, the camomile is thought to naturally calm and relax the pet and help calm an upset stomach. With added omega 3, no added colours or preservatives, this is the latest addition to our family of food products and your puppy will love the blend of delicious flavours," added Jordan.
Fallowcopse Feeds is keen to enlighten dog owners about the power of nutrition, helping dogs maintain an optimal healthy weight, have improved digestive tracts, increased energy levels, as well as excellent oral hygiene and a softer coat, as Jordan explains further,
"Being a professional breeder, nutrition is of utmost importance and something that I am very passionate about. Unfortunately, with dog owners having such busy lives, it has become far easier to grab any old food off the shelf, without any prior thought about ingredients and how nutritious it actually is. Many of our dogs' ailments and behavioural issues stem from the diet they are provided. We as a nation need to become more educated on what we feed our dogs and choose a kibble like Fallowcopse Feeds to fulfil our dogs' requirements, so they can live a happy, healthy life."
Fallowcopse Feeds value sustainable livestock farming and all the meat is sustainably-sourced, supporting the livelihood of British farmers, soil biodiversity and the wider eco-system. The Angus Beef kibble for example, has sustainably sourced Angus Beef, rich with amino acids, vitamins and minerals. The meat is slow cooked at room temperature, protecting the protein and providing 65% total beef ingredients (35% Angus Beef) in each pack. The beef is mixed with superfoods like: carrots, green beans, cauliflowers, courgettes and naturally occurring collagen, to give your dog a tasty, gourmet meal.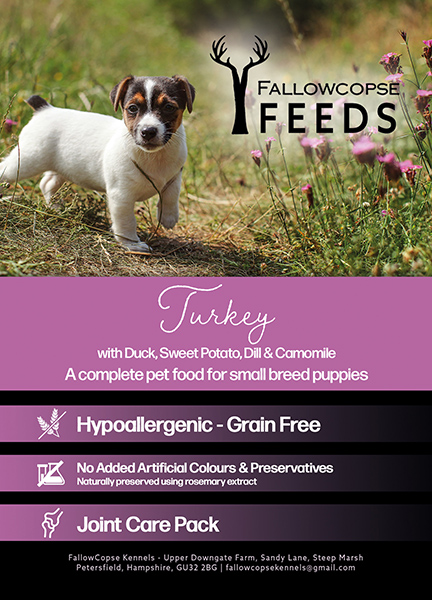 Other delicious flavours include:
British grass-fed lamb
British free-range chicken
Free-range Turkey (adult dogs and puppies)
Scottish salmon (puppies)
Throughout the day and during training regimes, puppies and dogs like to have some treats, Fallowcopse Feeds offers two varieties: 80% grain-free Poultry and calming (with duck, chicken, and added lavender and camomile), to stabilise the gut flora and provide added calm.
For teething puppies and older dogs that like to chew, the Antler Chews come in three sizes: small, medium and large and are odourless, natural, nutritional and support healthy, dental hygiene.
To fully support your dog's nutritious needs: view the full range today and make an order though the website below:
T 07751984502
orders@fallowcopsefeeds.co.uk
www.fallowcopsefeeds.co.uk