For a pioneering juice business well accustomed to leading from the front, it's fair to say that even cold pressure pioneers Coldpress, the UK's original HPP juice provider, was blown away by the rapidly accelerating success of its NEW fruity nut milks Waitrose (May '18).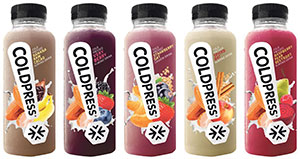 The task wasn't easy; entering a historically dreary 'sackcloth' sector and creating a 5-strong flavour range which married healthier living and mainstream appetite appeal with compelling flavour profiles in easily accessible, (on-the-go) single portion bottles.
Coldpressed – Raspberry, Pear, Beetroot Almond Drink; Spiced Oat Almond Drink; Blueberry, Cherry, Guarana Almond Drink; Banana Raw Cacao Almond Drink & Strawberry Oat Cashew 250ml bottles – RSP £1.99.
As a proud, Made in Wales HPP juice provider it was critical to give historically dowdy nut milks a vibrant mainstream makeover, be it nutritionally superior profiles, more involving flavour marriages, and especially velvety textures (an added benefit of the almond pastes being assembled on site).
Whilst the immediate goal is understandably to tap into the discerning dairy intolerant/free from fraternity, the wider priority is broadening the appeal of nut drinks to encompass – foodies, gym seekers, health aware commuters, nostalgic milkshake admirers, time-poor commuters, and cash conscious students.