The multi-awarded Hattingley Valley Classic Reserve sparkling white wine has been chosen by the retailer to become one of only nine sparkling wines selected as part of Whole Foods Market's 'Holiday Wine Programme'.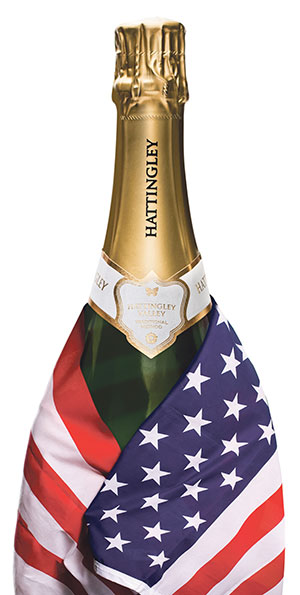 The Classic Reserve will be available in all participating stores across the country between October 31st and January 1st – giving this style the prestigious accolade of being the first English wine available across the USA.
Since January 2017 Hattingley Valley has seen continued success in America thanks to a very strong partnership with US importer and distributor Valkyrie Selections. Hattingley Valley Classic Reserve is already available at a number of venues across the country including The Hearth & the Hound in LA, The Slanted Door in San Francisco, Waypoint & Deuxave in Boston, The Clocktower & Grand Central Oyster Bar in New York and Blackberry Farm in Tennessee.
Hattingley Valley has created a new label specifically for the US market with a more contemporary look to appeal to a younger, more affluent audience.
Gareth Maxwell, Commercial Director at Hattingley Valley, said, "We're very proud that we have been so well received in the US market, especially with the country now accounting for 13% of our overall sales. The team has worked hard to raise brand awareness and fly the flag for the English wine category in the States and we see this new relationship with Whole Foods Market as a milestone achievement."
Devon Broglie, Master Sommelier, Global Beverage Buyer for Whole Foods Market, said, "We were truly impressed by the quality of Hattingley's wines and we can see the UK emerging as a premium wine region of the world. We look forward to seeing this wine getting out onto our customer's tables this holiday season and beyond."
Hattingley is forging ahead in other markets too, with a new national listing in Australia's fine wine specialist – Vintage Cellars (which has 70 stores nationwide), Tyson Stelzer of Vintage Cellars says, "England could be the next global frontier for top-shelf fizz and the scene is now really taking off over there."
It doesn't stop there as Hattingley's Classic Reserve will be appearing in 100 Jacques Wine stores in Germany as part of the 'rarities tasting' in November & December. Hattingley is also anticipating strong peak sales in the UK through distributor Enotria & Coe as well as home delivery partners, Ocado & Waitrose Cellar.
Minister of State for the Department of International Trade, Baroness Fairhead, said, "Hattingley Valley's success is a perfect example of how desirable high quality British products are in overseas markets, and we would encourage likeminded UK companies to follow in its footsteps.
"The US has always been one of the UK's greatest trading partners and is now one of the largest importers of British wines in the world. We will continue to strengthen trading relationships with the US and ensure businesses like Hattingley Valley are reaping the rewards from exporting overseas."
For further information, please contact Rebecca Fisher at Hattingley Valley Wines.
T +44 (0)1256 389188
rebecca.fisher@hattingleyvalley.co.uk
www.hattingleyvalley.co.uk