At Food and Drink Matters, we strive to recognise companies who are truly breaking the mould of their industry, working to offer the most innovative products coupled with outstanding customer service so they are not just meeting industry standards, but setting them. For this reason, Food and Drink Matters is happy to announce that Cap Coder has been chosen to receive our Packaging Company of the Year award.

With well over 40 years of experience in the industry, Cap Coder specialises in the design and manufacture of standard and bespoke solutions for capping, coding and filling. Over the last few decades, the company has cemented its status as an industry leader, and is dedicated to fortifying this reputation through constant development and growth while maintaining the personal touch that comes with being a family run business.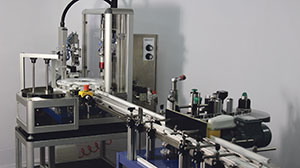 Established in 1974 by Lou Bates, the grandfather of Ross Prior, the current Managing Director, Cap Coder became a Limited company in 1976 and has reaped an impressive array of accolades since. Based in Oxfordshire, the company works with clients in the UK and abroad, using its years of knowledge, skill and expertise to establish a strong and loyal customer base.
Indeed, Cap Coder is committed to spending time getting to know its customers, making sure it listens and understands their needs to ensure it provides the most appropriate solution every time. With a core ethic of providing outstanding customer service and support, Cap Coder's first class and flexible results are guaranteed to exceed expectations. "We are a close knit, family run business and lots of family members are involved with the company, and we maintain a very straightforward environment and welcoming atmosphere," Ross explained.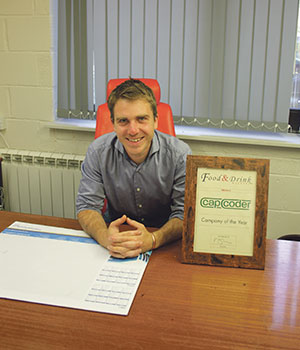 Using a solid foundation of trust and integrity, Cap Coder offers proactive and supportive service with realistic and competitive pricing, all of which is underpinned by innovative design, engineering and manufacturing capabilities. What's more, Cap Coder is agile enough to meet the changing needs of its customers, responding to developments in engineering and packaging by developing new products to cope with emerging challenges. By investing in an ongoing programme of investment, Cap Coder is well-placed to meet its customers' fluctuating needs. Indeed, Cap Coder actively encourages its customers to call and discuss their specific requirements, with the company's team of technical experts always putting its customers' needs first.
With this outstanding customer service at its heart, Cap Coder provides its machines for a wide range of industry sectors, including toiletries, cosmetics, pharmaceuticals, vaping, complementary medicines, chemicals, and food and beverage. Within this assortment, Cap Coder's machines are used for an even broader range of products, catering for all shapes and sizes of bottles, jerry cans, tamper evident caps, pump action spray caps, and trigger spray caps. All machines are accredited to ISO 9001–2008 standard, and come with a Certificate of Conformity/Incorporation to further highlight the quality and validity of the company's technology.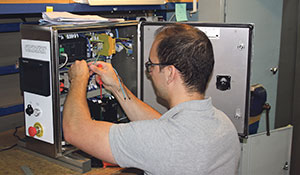 Indeed, Cap Coder's extensive range of machines means the company can cater for any customer, no matter the size or project. Its range includes machines for screw cap tightening to the desired torque, press on capping, plug insertion, liquid filling, agitator ball insertion, conveyor, and ATEX zone 1 and 2 compliance.
Most importantly, all machines are made in the UK and designed in house, ensuring Cap Coder can manage everything, from design to manufacture to after sales care. "We do everything in house, including design, machining, fabrication and assembly," explained Ross Prior. "This means we have total control over the entire process. We are also proud to offer bespoke machines, a rare feat in the UK market."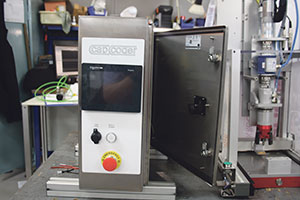 Indeed, Cap Coder's facility to offer bespoke machines helps the company to maintain its position at the forefront of innovation. We asked Ross to elaborate on the unrivalled experience a customer can expect when looking for a customised project from Cap Coder. "If a customer would like a bespoke machine, we invite them to the factory where they can discuss the style and operation of the machine, and what they want/need it to achieve. We look after the project right from these initial stages all the way up to producing the final machine for the customer. We are proud to offer full, comprehensive solutions no matter what their needs.
"We recently built a bespoke filling machine for an existing customer. They wanted a design we had for a capping machine to become a filling machine, and wanted the operator to only have to change the starwheel rather than having to change and move individual nozzles where they could have set them incorrectly, essentially making the product changeover fool proof."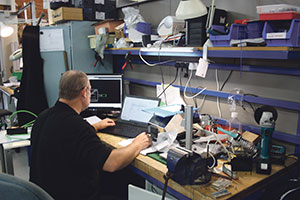 Indeed, the customer was more than satisfied with the outcome, as the following testimonial demonstrates. "We have had a great experience working with Cap Coder. We have brought a number of machines from them now including the latest CC560 filler. When we first approached Cap Coder with our filling machine brief, they used their knowledge and creative touch to come up with a totally new idea for us. We needed a compact machine, with quick changeovers, and fast, reliable operation. The machine they created for us achieved all this and more. It has helped us rapidly increase our production process to keep up with our 50% growth rates, whilst sticking to LEAN principles of manufacturing. We would definitely work with Cap Coder and I can highly recommend them." – Thomas Laird, MD of Crystal Spring Consumer Division Ltd.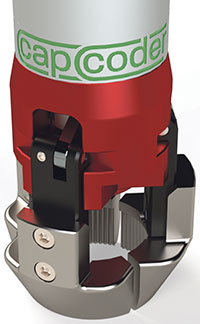 With 40 years of unprecedented success, Cap Coder has exceedingly high expectations to live up to. Thankfully, the company is never one to rest on its laurels and the past year has seen further success for the innovative company. "The last 12 months have been brilliant," Ross said. "We're still growing consistently, as we have done for the last three years. We are always expanding our portfolio, offering an increasing number of capping and filling machines in addition to our established capping machine range. We're hoping to continue this expansion over the next few years. Also, our sales have been even better than expected, with the numbers being up on last year's."
To bolster this success, Cap Coder has employed some new staff members who have brought a wealth of experience to the company. "18 months ago, we took on a new Operations Director who has made a massive difference to the company, significantly reducing lead times and improving internal systems. The company also welcomes two new sales engineers and well as two new mechanical designer engineers"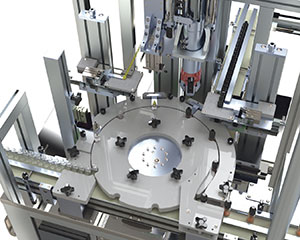 We asked Ross what he was most proud of and he responded with, "We are massively proud of not only being a British company but a British company that designs, manufactures, supports and indeed exports its own products around the world. I am also so very proud of the team who have made all the growth possible. It's a tight, hard working group and they are all totally on board with me, pushing in the same direction. It's very reassuring feeling to be able to stand back from it all from time to time knowing that the key players are there pushing it on with the company's best interests at heart."
We also asked Ross, what sets Cap Coder apart from its competitors?
"Without doubt our strongest point is flexibility. The flexibility to adapt and change whatever is needed to meet customers' demands, not only from a mechanical aspect but also from a controls point of view. We often get asked to design in certain features such as a special sensor to detect something out of the ordinary.
"For example, we have just been asked to incorporate a vision system into one of our machines where once the torque head has finished cap tightening, it then picks up the bottle and slowly rotates it while the camera looks to detect a code on the bottle. Once detected, the torque head stops, lowers it onto the conveyor and releases it.
"This application is fairly straight forward but we have been challenged with some very technical situations. Luckily our Technical Director is nothing short of brilliant and there is no problem he hasn't been able to overcome yet. It is due to this we are indeed becoming more of a 'solutions' company for some of our customers."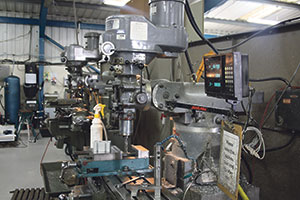 Another recent development was the release of the Micro-Mono Bench Top Filling and Capping machine, used heavily in the e-cigarette industry. "This is a revised version of a previous model," explained Ross, "and it can go from manual operation to being fully automatic. I've been told repeatedly that for its size and price range it is unbeatable in the industry, and it is one of our bestselling machines as well as being one of the most cost effective."
Cap Coder offers one of the most comprehensive ranges of capping machines in the industry, providing anything from low volume bench top machines to fully automated production systems. The company's solutions boast multi-functionality, designed to accept modular work stations, with fully automatic PLC control and a simple human-machine interface.
As well as the new range of machines including the Mini Mono and Micro Mono, Cap Coder has been designing a new range of filling machines due to popular demand.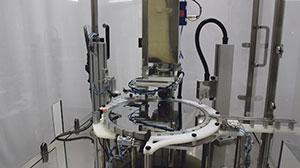 Ross stated, "We have been incorporating fillers into our machines for many years now and have had much success using gear fillers recently, driving them with the Schneider Servo motors we know and trust. Using these motors and the new HMI/PLC combos we can program in some very useful functions and due to repeated requests from customers, old and new, our machines have morphed from capping machines with an integrated filler, to totally dedicated filling machines."
As well as its extensive range of high-quality machines, Cap Coder understands the ongoing maintenance needs of its customers, and provides outstanding after sales care. Establishing solid, longstanding relationships with customers, Cap Coder boasts an expert team of service and support engineers which prides itself on reacting efficiently to customer needs. This guarantees that Cap Coder's customers can maintain an efficient working machine.
Furthermore, Cap Coder understands that even the most reliable of machines need spare parts from time to time, in order to replace components that may have worn out. This is no trouble for Cap Coder, who can provide customers with any spare part for any of its machines, and arrange a visit to fit the part if required.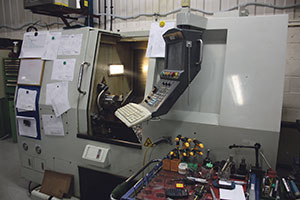 If this wasn't enough, Cap Coder can also cater for any increase in its customers' product ranges. If such an increase occurs, the customer may want to run their new products through their existing Cap Coder machine. Thankfully, all of the company's machines are designed to accommodate new products by using change parts which have been specifically designed to fit each of its customers' individual products.
This fantastic selection of aftercare services ensures that Cap Coder establishes and cements long-term relationships with its customers, adding further renown to the company's enviable reputation within the industry.
These accomplishments are only set to continue, as Cap Coder has continuing plans to develop its already impressive product range. "We want to keep expanding," explained Ross. "We're developing increasingly faster machines, and we have just started designing a 120 per minute machine." Indeed, Cap Coder ensures it has its finger on the pulse of the industry's latest developments, and has a range of exciting projects in the pipeline to further address its customers' needs.
Boasting a 40+ year history of outstanding manufacturing capabilities and unequivocal customer service, Cap Coder is fortifying its industry-leading status with each year that passes. Without question, the company is well-deserving of our Company of the Year award, "I feel great! It's fantastic to have received this award," Ross concluded.
Cap Coder can be found at a number of trade shows throughout the year, including the Hemp & CBD Expo in September at the NEC, Birmingham, and the White Label World Expo at the ExCeL Centre, London in November.
If you would like to find out more information on Cap Coder's full range of machines and services, head to the website. Alternatively, get in touch using the contact details below.
T 01865 891466
info@capcoder.com
www.capcoder.com