Renowned US vitamin brand Sugarbearhair recently announced its official launch into Boots UK exclusively as of January 2020. Best known for its revolutionary Hair Vitamins, SugarBearhair has recently expanded its product range to include a Women's Multi Vitamin, with both available to purchase in-store and online at Boots from January 2020.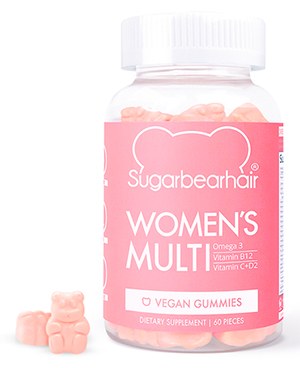 Gone are the days of swallowing large, smelly pills; SugarBear's delicious chewy vitamins are flavoured with natural berries for a sweet taste suitable for all genders. Simply chew two a day, separately or together, to support healthy hair growth!
Hair Vitamins (v): 'Love Your Hair with SugarBear'
Since launching in 2015 as the world's first vegetarian gummy hair vitamin, SugarBearhair's original SKU has become the #1 bestselling and most repurchased hair vitamin, generating over 10,000 4+ star reviews with customers joining the brand journey, sharing their results. Formulated with essential hair-friendly ingredients like biotin, folic acid, and vitamin D, these vegetarian gummies are made with plant-based pectin over the typical animal by-product gelatine base, contain no hormones, are kosher, soy free, and gluten free. Just two bears a day that are made for all hair types, produced in a USA FDA compliant facility, with no side effects to provide all the nutrients needed to meet your hair goals.
Women's Multi (vg): 'Love Your Body with SugarBear'
SugarBear's Women's Multi Vitamins are a scientifically formulated vegan vitamin complex with real fruit juice, plant-based pectin, and designed especially for women. The delicious berry flavoured gummies contain vegan sourced amino acids as well as 16 micronutrients to help supplement vitamins and essential nutrients many women may be missing in their recommended daily diet. Key ingredients include Omega-3, Vitamin B-12, and Vitamin C + D.
Speaking on the UK launch, a spokesperson for SugarBear commented, "It's a hugely exciting time for the brand as we launch our vitamins into the mainstream UK market for the first time with such a strong partner in Boots, who has built a name as a trusted source in the wellness category. From the overwhelmingly positive reviews and results communicated to us from our existing British customers, we're thrilled that our Hair and Multi Vitamins will now be more readily available on the UK High Street."
Boots will be the exclusive retail UK stockist of SugarBear. As well as selling in 262 stores, the gummies will be available for both home delivery and click and collect next day. With over 90% of the British population living within a 10-minute drive of a Boots store, customers need not fret about getting their vitamin hit!
All SugarBear products are made in the USA and are free of artificial sweeteners and flavours. They are free from gelation, dairy and gluten.
Boots selling price: £28 per one month supply, £79.99 per three month supply.
Celebrity fans include the Kardashians, Vanessa Hudgens and Emily Ratajkowski.
Stockist: Select Boots stores and Boots.com
For further details, please contact:
Ashley@emergelimited.com
Amy@emergelimited.com