Snacking Essentials is launching a tasty new range of healthier premium snacks, available initially in Boots stores across the UK from January.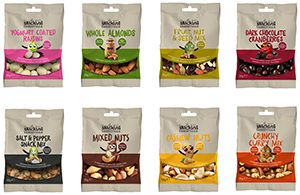 The range of eight new products targets today's healthy snacking trend, appealing to health-savvy consumers by capturing the wholesome benefits of quality nuts, seeds, pulses and berries in new combinations, whether through perfect pairings of flavour and texture or by championing the power of single premium ingredients, along with chocolate and yoghurt coated berries for a more indulgent snack. The nutritious snacking range is presented in handy, easy-to-use 35g packs (RSP 70p per pack), and also introduces a series of playful characters, appealing to consumers with a different, fun character for each product. The packs are also included in Boots meal deal, which allows consumers to buy a main, snack and drink for £3.39*.
Each of the variants in the range has been carefully developed by Snacking Essentials' expert team, to provide the perfect balance of taste, nutrition and energy boost that consumers are looking for. These include:
Cashews – pure creamy heart-healthy cashews for the ultimate antioxidant protein boost
Whole Almonds – with multiple nutrition benefits including high in fibre and a source of protein, they're a perfect healthy snack
Fruit Nut & Seed – the classic delicious combination that can't be beaten
Mixed Nuts – a tasty pack of protein-filled crunch with something for everyone
Salt & Pepper Snack Mix – snacks with a twist in a zingy flavour that's totally on-trend
Crunchy Curry Mix – a perfect balance of spices with a satisfying bite
Dark Chocolate Cranberries – a little taste of luxurious indulgence
Yoghurt Coated Raisins – juicy plump raisins wrapped in creamy yoghurt for a mouthful of taste
Snacking Essentials Marketing Controller, Andy Lewis, says, "At Snacking Essentials we pride ourselves on our diverse range of tasty snacks that offers something for everyone, whether for a nutritious boost of energy on-the-go, after a visit to the gym or healthier snacks and indulgent treats for grazing on at the office. We are very proud to launch this exciting new range, with its modern, appealing branding and fun new characters all wrapped up in our easy-to-use packaging."
Snacking is a major area of growth in the UK, with 66% of adults snacking at least once a day** with healthier snacking the key driver of this, which is a trend set to continue throughout 2020. Developed by RM Curtis, ingredients' specialists with over 150 years of expertise, the Snacking Essentials range is already established as a protein-packed favourite with all the quality assurance expected from a company of this heritage.
www.snackingessentials.co.uk
www.rmcurtis.co.uk
www.facebook.com/snackingessentials
www.instagram.com/snacking.essentials
www.twitter.com/snackessentials
*Or less in London and airport stores
**Mintel Consumer Snacking UK: March 2019