Food and Drink Matters have chosen to select Kendal Nutricare as our Company of the Year, for their outstanding commitment to customers and ongoing development of sourcing the most natural ingredients and using British dairy ingredients.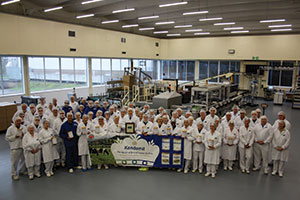 Boasting a title of being 'The only British infant formula milk' manufacturer, Kendal Nutricare maintain a local and global dominating presence within their market and showcase a wealth of knowledge through their 57 years of experience. With their operations running on a global scale, Kendal Nutricare's products can be found in over 20,000 stores in the UK, Europe, China, Middle East and Africa.
Since 1962, the factory has been manufacturing infant food products for Boots, Heinz, and GSK before starting its journey as Kendal Nutricare in 2015.
Based in Kendal, Cumbria, Kendal Nutricare was founded by Ross McMahon, who provides the strategic vision for developing and manufacturing specialised nutritional powdered formulas. Believing that the best milk for infants is mammal milk fat, Kendal Nutricare use ethically sourced ingredients and milk, to create a natural formula to meet the dietary requirements of the infant. These infant formulas use full cream milk which is all locally sourced from 'Red Tractor Approved' farms in and around Cumbria and Lancashire.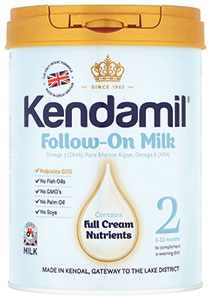 Developing their innovative formulas, Kendal Nutricare maintains a Research and Development team with an average of 25 years of experience working within the healthcare industry. The company identifies themselves as the "Home of Family Nutrition," through their expert team of process engineers, laboratory microbiologists, research scientists and operative technicians, the company prides themselves on manufacturing world-class nutritional food products.
Three years ago, Kendal Nutricare gathered feedback from parents who were formula feeding using competitor products. They highlighted various problems including eczema, colic, limited sleep and constipation in infants. The feedback also indicated parents' concerns with ingredients such as vegetable oils and vegetable fats, as most UK competitor formulas contained a high percentage of these ingredients. Focusing on the issues raised, Kendal Nutricare created a formula derived from using whole fat milk to create a closer resemblance to the nutritional goodness of breast milk.
In terms of ingredients, I spoke to company founder Ross McMahon on the beliefs behind the ingredients' contents. Ross told us that as a company, they are against the use of palm oil and fish oil, using substitutes such as pure marine algae as a source of omega 3, instead of fish oil making Kendamil a vegetarian formula. Ross expanded, "we are passionate about getting palm oil banned from infant products. We believe in the production of natural ingredients and creating a sustainable ethical approach, without the use of palm oil and fish oil."
The company also maintains a range of speciality formulas for pharmacies such as anti-reflux, anti-colic, hypo-allergenic and lactose-free, along with gluten free, halal and kosher recipes.
As a whole, Kendal Nutricare comprises two main brands catering for all ages, Kendamil and Kendalife. Kendalife consists of a range of adult nutritional products all containing ingredients such as inulin, a natural prebiotic which helps aid the digestive system. The Kendalife range is vegetarian and also includes vegan options.
Expanding on their Kendalife brand, Ross McMahon told us that, "Kendalife is a nutritional powder using only natural ingredients with no artificial colours, flavourings or preservatives, which can be used to make incredibly fruity and healthy smoothies. Each serving contains 24 vitamins and minerals, plus proteins, BCAAs, fatty acids, and 55g of super fruits. It's also extremely easy to make, simply mixing powder with water, and it comes in two super fruity flavours, Mango Passionfruit and Superberry."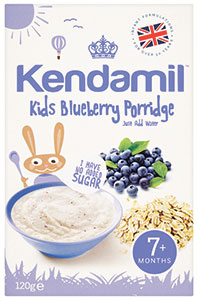 Another use of the Kendalife drinks is their slow releasing energy, enabling on-the-go consumers to use Kendalife as a meal supplement or replacement. Proven to increase weight loss, the drinks are a useful alternative for busy individuals/health enthusiasts and the elderly, who benefit from the variety of nutrients, vitamins and minerals that the drink contains.
With an array of accreditations associated with their products, Kendal Nutricare are experts in exporting globally, meeting export required accreditation such as; BRC grade AA, Halal Certification, Soil Association Certification, FDA Certification, Super-kosher Certification, Health and Safety Certification, EHO approval and ISO 14001.
As a great addition to the company's achievements, this year Kendal Nutricare were selected as the recipient of the Gold Crest Award presented by the Board of trade as a Northern Powerhouse Champion. Ross McMahon elaborated, "as a company we have seen great advancements in the recent years. In fact, we have doubled our turnover this year alone. Kendamil is now available in over 21 countries internationally and have been selected to receive the Gold Crest Award by the Board of Trade." Kendal Nutricare has in fact secured an MOU with the Orient International Holding Shanghai Foreign Trade Co Ltd which is worth an impressive £60 million, over the next 3 years.
An important year for Kendal Nutricare in terms of recognition and growth, we asked Ross McMahon about how the company felt about receiving the Company of the Year award: "Kendal Nutricare's achievement is a result of our experienced staff developing a world class Kendamil recipe going back to the traditional production process of using a high proportion of natural mammal milk fats sourced locally combined with selecting the right sales partners internationally and we are very grateful to Food & Drink Matters for recognising us as a British manufacturing success".
When asked about the future for Kendal Nutricare, Ross McMahon added that, "in terms of the future, we plan to continue to press the UK government agencies to ban the use of palm oil in infant formulas as recommended by "First Steps Nutrition"; we also plan further expansion within North and South America to increase our global presence and we will continue our work in-house, developing formulations to benefit families worldwide."
For any more information, please see details below.
Contact Ross McMahon & Neill Duffy
T 01539 877100
enquiries@kendalnutricare.com