Food and Drink Matters is proud to announce that Inginius has been selected as our Gin Specialist Company of the Year. For the past few years, Inginius has been committed to providing the finest quality hand-crafted tonic waters, designed to enhance and complement the growing range of artisanal gins. They are also now developing their product range in order to provide the growing number of gin enthusiasts with fresh, clean and altogether exquisitely blended tonics which are proving extremely popular with consumers.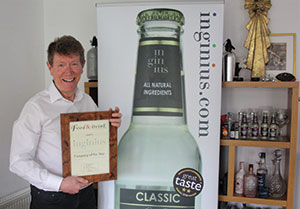 The market for artisanal gins seems to be expanding exponentially, and it goes without saying that (almost) every gin needs its tonic. This is where Inginius comes in. The company was founded in 2016 by Andrew Peerless; despite not having a background in the food and drink industry, having 40 years' experience in publishing and the book trade, he is an enthusiastic consumer of gin and loves cooking and entertaining. These hobbies provided a basis for his idea for Inginius, which occurred to him whilst he was still working at Oxford University Press. Andrew noticed the growing appreciation for artisanal gins and understood they needed a range of delicately balanced tonics to complement them. Indeed, the gin industry is ever increasing, which has resulted in a fast developing market for tonic waters.
We had the pleasure of speaking to Andrew about the development of his business, and the work he has put in to create such fine quality products: "It took a while to find out about tonic water development," he says. "I was terrified of developing my own tonic at first, as there seemed to be so many complexities and difficulties to overcome, but I threw myself into it with some enthusiasm, and found a small company in London to work with who could help me to develop the recipes." Andrew worked with this company for a short time before encountering some problems: "There were some issues with the second batch this company produced, so I bit the bullet and created a small trial run myself. I blended all the ingredients and had it bottled commercially at a bottling plant in Dudley. That worked out extremely well, and so I've worked with the company ever since. It's quite a labour-intensive process but I think the results – the subtlety and depth of the flavours, the gentle effervescence, the way the tonics support and enhance the gins – make it all worthwhile."
Originally based in the West Country, Inginius moved to Oxford in early 2018, where the handmade tonics are now created before they are bottled at a specialist facility in Dudley. These tonic waters are made from natural ingredients and are designed to accompany an extensive range of gins.
The focus is on complementing rather than overpowering the delicate flavours of the hand-crafted, artisanal gins that are available in the marketplace. Andrew uses small-batch production methods, steeping real fruit peel before mixing in other ingredients in order to create a clean and fresh taste. All of the ingredients are the finest available and are carefully weighed and selected by hand, ensuring the products are created with the sharpest attention to detail.
Inginius currently has two tonics, with a selection of new blends being released in April. The Classic tonic is crisp, clean, and refreshing and is blended for pairing with (London) dry gins. It has less sugar (6.4g per 100ml), a little less quinine and lower carbonation than other equivalent tonics and has no artificial sweeteners. It is the perfect mixer to enjoy with premium and small-batch gins made with distinctive botanicals. It is an excellent combination with many London dry gins, but makes an exceptional companion to gins such as Malfy, Monkey 47, Copperhead, Cotswold Dry, Garden Swift from Capreolus Distillery, Chase Williams Elegance, Dutch Courage from Holland, and 9 Moons from Martin Millers. Their other tonic is the Citrus Sweet, which was developed to complement sweeter gins, and gins with distinct citrus or floral elements. These tonics can also be delicious on their own with ice and a dash of bitters, creating the perfect option for the designated driver.
The Citrus Sweet tonic has rich citrus and botanical ingredients, but no more sugar than the Classic. It combines elegantly with a variety of sweeter gins, but is especially good with Worsley Gin from Manchester, Brockmans, Chase Williams Pink Grapefruit and Pomello gin, and Rhubarb and Ginger gins from Whitley Neil and Edinburgh.
The excellent qualities of these tonics were recently proven by Inginius's success at the Great Taste Awards 2018. Great Taste is the renowned benchmark for the finest food and drink and is often described as the Oscars of the food world, or the culinary equivalent of the Man Booker Prize. Over 500 judges joined together for 65 judging days between March and July 2018, where they blind-tasted thousands of products in teams of three or four to ensure a mix of age, gender and expertise. The Great Taste logo is trusted throughout the food and drink industry, and is a sure sign of high quality for any product which boasts its mark.
After an extensive judging process, Inginius's Citrus Sweet range was awarded one star, which is only achieved by 25% of entries, and it means the judges thought the tonic waters were 'simply delicious' and delivered excellent flavour. On top of this, the Classic range was awarded two stars. Less than 15% of entries receive this rating, and it means the judges believed the tonics were 'outstanding'. Andrew was told that it was 'extremely rare' for a product to receive 2 stars on first submission, proving that it must be exceptional.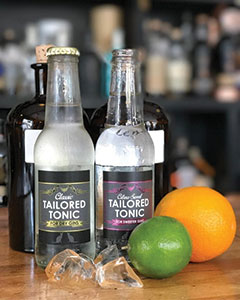 Andrew told us that winning these awards "re-invigorated the whole business" and he is looking to release four more blends of tonic waters in April to expand his range. With these new blends, Andrew is hoping to cater for the health conscious consumer, and has been working with a new sweetener which is derived from apples. This sweetener is a by-product of pectin production, meaning it also helps to reduce waste. By using this, Inginius can offer a light version of their tonic waters sweetened with fruit sugars which doesn't mar their excellent taste, and maintains the balance of flavours with the gins they are paired with.
One of these new blends, the Berry Light, has been developed in conjunction with a fine locally distilled gin called Skywave. This is the first time Inginius has blended a tonic with the aim of highlighting specific botanicals in a gin, and it will be Skywave's tonic of choice when it is released in April. Skywave is a light, fresh gin with a citrus burst and spicy finish, hand-crafted using small-batch methods for passionate gin drinkers and these flavours will only be enhanced by the addition of Inginius's Berry Light tonic water. Andrew also hopes that this new blend will pair well with many other gins that have a similar botanical or flavour profile to Skywave.
Inginius already strives to ensure their tonic waters are as natural as they can be, and are looking to use organically certified ingredients in the future to make their drinks healthier as well as delicious. With an ever growing number of health-conscious consumers, Inginius is striving to provide a range of tonic waters that can be enjoyed without the negative health effects. As well as looking to break into the healthy lifestyle market, Andrew is also working on increasing the number of premium establishments selling the tonics. "Whilst Inginius is new to the market, I believe my product range is distinctive and I'm keen to talk to wholesalers about selling the tonics. I'm offering a unique product for the high-end market and I've started to take on numerous influential restaurants to help get the brand name out there."
Indeed, Inginius has welcomed plenty of excellent new customers, including the Quod Restaurant on Oxford High Street, which will be including the Inginius tonic waters in their new drinks menu from March. The tonics are also served at The Oxford Kitchen on Banbury Road, Oxford, a Michelin-starred restaurant which serves classic British dishes with a modern twist. "One of our other latest customers is The Stag and Huntsman in the beautiful village of Hambledon, near Henley in Oxfordshire. I should also mention the Cotswold Plough Hotel in Clanfield, who have been terrifically supportive. They distil their own gins and are enormously enthusiastic supporters of Inginius." As well as being served in bars and pubs, Inginius's tonic waters can also be found in several shops, including the Hop Pocket Wine Shop, Herefordshire, and Eynsham Cellars, Oxfordshire. This is in addition to the tonics being available to purchase on Amazon or directly from Inginius's website.
In March, Inginius will be heading to Glasgow for the Gin to My Tonic Show at the Glasgow Exhibition Centre, which will feature four sessions that provide the opportunity to network with gin enthusiasts. It will include gin and cocktail bars, cocktail masterclasses, blind taste challenges, and presentations from distilleries, allowing attendees to discover and taste new brands and product ranges. This will be an excellent opportunity for Inginius to promote their high quality tonic waters to thousands of gin lovers.
At a similar event in Liverpool last year, Andrew was struck by the enthusiasm that people showed for his tonics, managing to sell all the stock he had taken with him, so he is looking forward to meeting even more people in Glasgow. "I don't do a lot of shows, but I did attend the Copenhagen Festival recently. It's claimed that this is the biggest gin event in Europe, and it was certainly very busy. My Danish distributor had a stand, and he was very happy with the results of the show. I will also have a stand at Junipalooza in London in June, which I'm very much looking forward to because I will have the new range of tonics by then too."
In the coming months, Inginius is looking to take on even more influential restaurants to help get the brand name out into the public domain, focusing on high-end establishments to promote the premium flavours of the tonics. Inginius is also aiming to sharpen up their brand image. Working with an external designer, Andrew is developing new designs for his website and product labels, which will be ready to coincide with the release of the new range of tonic waters in April.
To ensure his product range is always developing to suit the needs of their customers, Andrew is also developing a gift set with Skywave gin, to provide a unique present for the gin enthusiast, along with Ginfusion botanicals. Ginfusion mixes can be put into your glass, infusing with the gin and providing an extra zing of flavour to enhance the classic beverage.
The popularity of Britain's most-loved spirit does not seem to be waning, with new small-batch distilleries starting up all over the country. With Inginius's supreme, hand-crafted tonics, you are sure to find the perfect companion to your favourite premium gin.
To find out more information about Inginius's exquisite tonic waters, you can either find them at the aforementioned trade shows in London and Glasgow, or head to their website below.
Contact
M 07540 841085
andrew@inginius.com
www.inginius.com