Food and Drink Matters is extremely proud to present Mr Scratchings as its selected Snack Food Provider of the Year.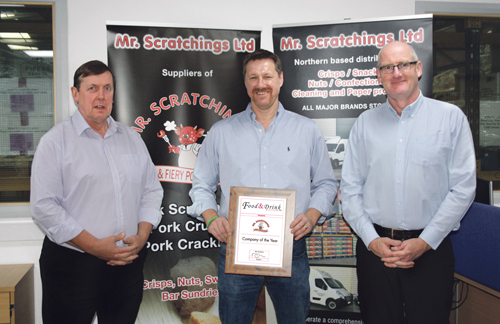 The Bradford-based family run company has come a long way since its establishment in 2002. Having advanced from a single van selling Mr Scratchings Pork Scratchings to a large enterprise distributing a wide-ranging selection of snack foods across the country, it is safe to say the business has snowballed into a unique industry provider.
The family owned and run business specialises in the delivery of delicious bar snacks in the form of crisps, snacks, nuts, chocolate and sweets by all the major manufacturers and of course, the much loved traditionally made 'Mr Scratchings' Pork Scratchings. The crunchy premium pork snack remains the best-seller for the organisation, constantly achieving the top spot in their listed 30 most popular products for the month due to their widespread popularity.
Prepared to their own unique recipe, the range of pork-based products is available in the following varieties: Mr Scratchings Pork Scratchings, the recently rebranded Pork Crackling and Pork Crunch, and the recently launched Hot & Fiery Pork Crackling.
"Providing a full snack range with over 600 lines, we are basically a one stop shop for the licensed trade," explained Tim Banks, Owner and Managing Director of Mr Scratchings. "We supply to pubs, clubs and sporting venues; these businesses are the bread and butter of our customer base, in addition we supply into retail outlets, sandwich bars, deli's, theatres, farm shops, garden centres and universities etc."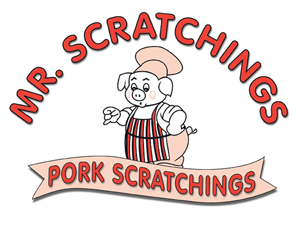 Our licensed customers can also purchase bar sundries such as cocktail cherries, lemon slices, drinking straws, stirrers along with soft drinks, cordial, water etc. The offering extends to a range of cleaning and paper products (toilet rolls, paper towels, napkins, centre feed rolls) along with our own brand of chemicals (Line cleaner, bleach, glass wash, floor cleaners, polish etc.) a range of over 90 products.
Distribution of the Mr Scratchings Pork Snack range covers all areas of the UK with demand growing for the North's premier range of Pork Snack products. In our Northern heartland, the company operate a comprehensive van sales service direct to the various outlets.
Upon discussing Mr Scratchings' successes and future plans, Tim told us the team were excited about their progressive path, "2015 was the best year so far for us in terms of sales and development. We have worked hard as a team in testing economic times to grow our business – particularly within the last 5 years – and are pleased to have grown 10-20% annually. We are currently 5% ahead of our forecast for the current financial year. This has enabled us to add 2 additional van sales people to our team and we are currently recruiting for additional staff.
"We have invested heavily in replacing our van sales fleet and placed a predominant focus on automating our processes (invoicing, ordering and van tracking etc); the incorporation of this technology has been an important factor in our continued customer support enabling our operation to become more efficient and cutting edge."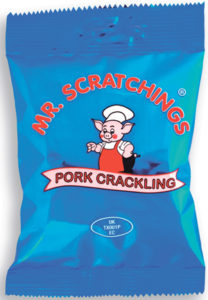 Howard Stead (Director) explained, "We are in a good position at the moment and are looking forward to working hard to continue our growth in the coming year. We are looking to build on our customer service, increase our customer base, provide an excellent range of products, remain competitive and add additional vans/support staff. We will continue to enhance our customer service, improving where possible, we use our ISO 9001 system to send out customer surveys and then react to the feedback."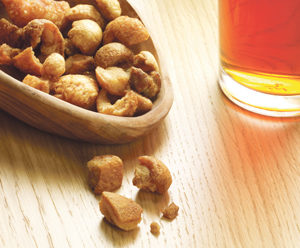 Mr Scratchings Business Development Manager, Roger Gladman told us that the business has come a long way over the past 5 years, "We continue to supply a number of individually operated outlets which have always been the main stay of our business and we are now in a position, through the changes we have made, to have the opportunity to supply into some of the major brewery houses."
"Our business environment is constantly changing, we owe it to our customers to change with the times, this enables us to continue to be competitive, provide excellent service and offer a range of products to suit the different types of outlets we serve, we want to be their 'Supplier of Choice.'
"We continue to forge closer working relationships with our supply partners which brings greater opportunities for all parties; we work with most of the major manufacturers of crisps and snacks etc."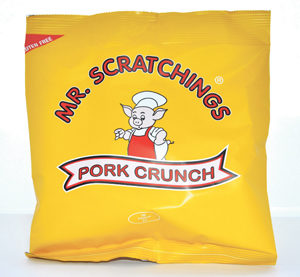 "As a business, we recently launched our new consumer online snack food and bar product emporium and we are pleased with the initial consumer's response, we encourage you to browse the full selection we have available."
"For trade enquiries you can use our site as a product guide and then contact myself or the team via email or phone and we can discuss trade pricing and your personal requirements."
Tim Banks added, "As a business we were pleased and excited to receive the 'Company of the Year' award, it is a great feeling to know that all the hard work and investment we have put in as a team over the past year has helped us in gaining this recognition"
T +44 (0)1274 670044
enquiries@mrscratchings.co.uk
www.mrscratchings.co.uk