Despite competitors dropping the weight of their bagasse offering in order to keep prices down, Herald continues to present a stronger product, ensuring its customers can maintain the supply of a premium choice to takeaways and fast food outlets around the UK.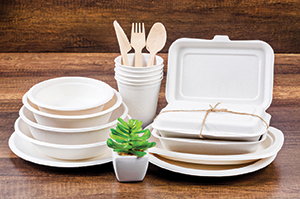 The disposables manufacturer and supplier is resolute in its commitment to supplying only the best quality bagasse products. Managing director of Herald, Yogesh Patel explains: "It's a false economy to provide customers with anything but stock of a substantial weight as you run the risk of affecting the final food offering and jeopardising the opportunity for repeat business.
"These disposables are used for a wide variety of hot dishes and sauces. If the container isn't heavy enough, the heat of the food will break the packaging down running the risk of accidents and spillages and spoiling the overall enjoyment of the meal. The preferred option should always be to go with quality in order to give the end-user the best experience."
Herald's bagasse selection forms part of its biodegradable product range and includes square, round and rectangle plates, in varying sizes, along with bowls, containers and hot boxes. The latter particularly appeal to the food to go market and those who supply to takeaway and fast food outlets.
For further information on Herald and its products, log on to www.heraldplastic.com or call 0208 507 7900.