The Secret Garden Distillery is launching their small batch 'Wild Vodka' exclusively with Harrods. It will be available for purchase in store and online exclusively from the 28th of June, retailing at £40.00 for a 50cl bottle.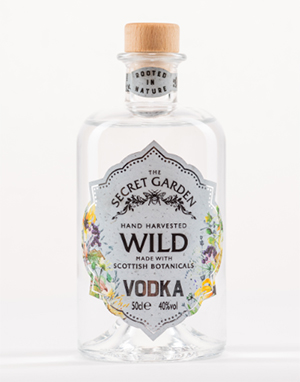 The Secret Garden 'Wild Vodka' celebrates all that is wild and is inspired by the natural herbs and plants of Scotland. The spirit is crafted with the wild botanicals harvested from the Distillery's award-winning Secret Garden, where the plants grow freely in raised beds to encourage wildlife and for their colonies of honeybees. The ingredients are hand harvested, dried naturally, and infused with a blend of Organic spirit to bring the unique herbaceous vodka to life.
For the first time, The Secret Garden's 'Wild Vodka' will be exclusively available in Harrods, the world's leading luxury department store, with Batch No. 1 "made from Scottish botanicals" on a limited release. The launch of this unique product will develop the natural spirit's space, tapping into the growing desire for zero waste ingredients and natural plant-based premium spirits. It has no added sugars, artificial colourings, flavouring, or colourings, making it something totally new, innovative, sustainable and utterly delicious.
The layered complexity of flavour comes from hand-harvested wild plants that most people would throw away or destroy, which creatively showcases the heart and soul of the brands ethos of being rooted in nature. The wild botanicals include wood avens, scots lovage, sweet woodruff as well as lemon balm and elderberries. This premium vodka is perfect for sipping chilled for those that like fresh tasting, complex, herbaceous and citrus vodkas. It is also excellent mixed, lending intriguing notes to cocktails like the classic martini or vodka cooler. Enhance the flavour by garnishing with your own dried herbs such as rosemary.
Nick Fleming. Spirits Buyer at Harrods, said, "At Harrods, we are always on the lookout for fresh and innovative brands that we know our discerning Harrods customers will adore, which is what we found in The Secret Garden Wild Vodka. It is beautifully crafted and a great example of premium British Vodka with sustainability at its heart. We love that it celebrates British ingenuity while also being absolutely delicious – and have no doubt our customers will too!"
André de Almeida, Managing Director, at the Secret Garden Distillery, said, "We are delighted to be working in partnership with Harrods on this very limited release Wild botanical vodka. There are some exciting developments to come in the future and I am looking forward to bring these to fruition."
The Secret Garden "Wild Vodka" also has a label made from 30% grass. This means that during the paper production process, energy consumption is reduced by 97%, water consumption by 99% and 20% less CO2 is produced. The security seal is also made from polylactic acid and completely biodegradable.
The Secret Garden Distillery has a 7.5-acre, all-natural Garden and home to over 600 naturally and sustainably grown and tended to plants. They use no chemicals whatsoever and heal plants with plants. Founded in 2017, Herbologist Hamish Martin successfully created an acclaimed range of 100% natural flavour gins and natural products, using the botanics he has grown on his own sacred space. Hamish's dream was to create a green space that allowed people to wander freely in the gardens and take in all the essence that the gardens have to offer. But what sets Secret Garden Distillery apart is their philosophy in celebrating all that Mother Nature has to offer. The launch of the 'Wild Vodka' is the latest innovation being released from the Distillery.
Wild Vodka is available to purchase from Harrods on the 28th of June at a price of £40.00.
T 0131 285 6833
info@secretgardendistillery.co.uk
www.secretgardendistillery.co.uk