Omega's new OM-21 data logger is for use in cold chain applications to monitor the transportation of Pharmaceuticals, food and other temperature sensitive products.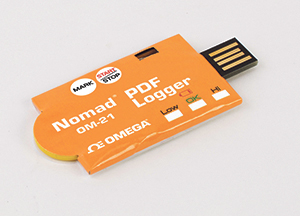 The data logger is completely user programmable including language selection, sampling interval, start delay, alarm delay, temperature units, alarm range, alarm type, password and user name. The unit's compact, lightweight, waterproof and flat design allows it to fit inside any package. No special software or driver is requires for set-up or download of data.
On completion of data logging a PDF report is automatically generated containing data summary, graph and tabular results. The data logger appears as a mass storage device when connected to the PC. User manual set-up utility and PDF report are all stored in the data logger. Prices from £154.00.
Freephone Sales 0800 488 488 (UK ONLY)
T +44 (0)161 777 6611
F +44 (0)161 777 6622
sales@omega.co.uk
www.omega.com/pptst/OM-21.html