Pooling Partners provides a range of supply and rental options for pallets and boxes across Europe; it is Europe's leader in pooling and production of pallets and boxes. Pooling Partners is part of the renowned Faber Halbertsma Group which has a rich heritage stretching back over 100 years. Originally founded in 1891 in the Netherlands, Pooling Partners was established in the UK in 2005, where it is based at Meriden Business Park, Coventry.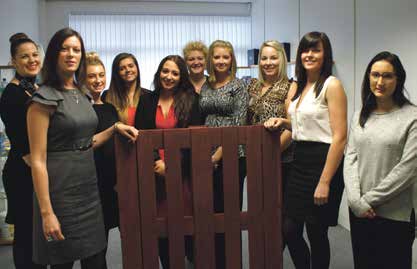 Carl McInerney, Country Director UK and Ireland at Pooling Partners, commented, "Pooling Partners provides simple, streamlined service solutions to pallet users. With a special focus on delivering and collecting pallets at the right place, at the right time, Pooling Partners is recognised across the supply chain. Pooling Partners' customers seek reliable supply and want to ease their daily pallet operations. Since the service provided usually improves overall efficiency, customers teaming up with Pooling Partners often see significant cost savings.
"Pooling Partners is also able to supply solutions for all types of pallets. It helps customers organise EPAL Euro pallets across Europe, as well as supplying Pool Pallets. Pooling Partners is also one of Europe's largest pallet production companies."
Pooling Partners' principal clients are in the FMCG, retail, recycling and industrial sectors. As it runs a dense pallet network, Pooling Partners works with the largest brands in grocery and retail in the UK and Ireland. It also works with hundreds of small-tomedium- size companies in logistics that play an important role in forming the dense pooling network.
Carl explained the main benefits that aligning with Pooling Partners can bring to customers, "Reliability is the number one benefit. Customers that team up with Pooling Partners often handle millions of pallet trips. They need a partner upon which they can rely. Even if everyone aims for zero defects, things do not always happen as planned. Then, reacting with an immediate, effective solution qualifies Pooling Partners as a strategic partner. Pooling Partners understands how mission-critical basic pallet operations have become.
"Competitive, transparent pricing is the second benefit. Pooling Partners is intensely IT driven and wants its customers to receive invoices that are easy to understand.
"As more and more customers are also interested in engaging in environmentally friendly business Pooling Partners' sustainability credentials are a third benefit. What Pooling Partners does affects the CO2 footprint of every pallet throughout its lifecycle: production, reuse, return, recovery, repair and recycling. Pooling Partners approach is both economically and environmentally sustainable. Pooling Partners aims to minimise the energy needed to produce pallets and reduce transport and use empty transport legs wherever possible. Many see this as a must for the future of smart logistics."
Following great success in Germany, Pooling Partners recently launched its award winning 1.4 Display Pallet in France, Belgium and the Netherlands and is now talking to customers in the UK too.
For industrial applications in the UK, Pooling Partners has also launched leading-edge reusable and collapsible boxes. The box solutions include promising options that can be combined: a Bulk Box and a High Protection Box with handling and packaging accessories including liners, flexible textile inserts and smart pocket frames to form a complete solution.
Asked to discuss recent changes to the business, as well as plans for the future, Carl commented, "2014 has been a good year for Pooling Partners; we have seen double-digit growth in the work done for customers in the UK & Ireland. That's a reflection of the rising demand for smart pallet solutions, but also on the company's focus on customers' needs and satisfaction for more than a decade in the UK. The team in the UK has earned a good reputation and established win/win relationships with customers. More customers use Pooling Partners' services.
"We now have a UK senior management team that brings together industry-specific experience, having worked with firms like Coca-Cola, DHL, Exel, UPS and Volkswagen. Whilst the grass-roots approach to employee recruitment, induction and training is proving effective. The company is growing and retaining the right skills and experience to maintain its momentum and continually improve customer satisfaction.
"Pooling Partners has continued to invest in its pooling network. Having a dense network for the collection and supply of pallets reduces transport miles: a common target the company shares with customers.
"There has been significant investment in the pallet pool. In 2014, more than one million new pallets were produced and added to stock. The repair facilities have also been expanded in the UK, strengthening Pooling Partners ability to ensure the quality of pool pallets during their entire lifecycle."
Carl concluded, "Pooling Partners intends to lead the pallet market which requires constant improvement. Over the next year, expect further growth in coverage areas and new services across the wider business.
"Pooling Partners will also become further engaged in the Circular Economy: an approach that demands intelligent design of products and services so they can be shared and reused. The company's pallet pooling services are already pretty close to being a perfect circular product. Pooling Partners hopes to share its know-how to illustrate how other products could be pooled and reused in similar cycles."
Throughout the year, Pooling Partners exhibits at a number of major exhibitions including in Paris, Hamburg, Munich, Madrid and Turkey, and supports pallet conventions across Europe. A list of upcoming exhibitions can be found on the website (www.poolingpartners.com).
Contact T 01676 524000