Food & Drink Matters is proud to present La Di Da Cakery as its Cupcake Specialist Company of the Month.
La Di Da Cakery is a brand new company set up by baking enthusiasts Jess Gane and Beccy Howell. Established in January 2015, the quaint cakery can be found in Camberley, Surrey, at the Compton Place Business Centre.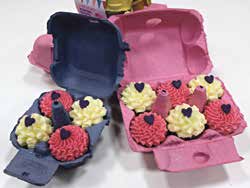 The company produces both wholesale and bespoke cupcakes, celebration cakes, afternoon tea hampers, and cake decorating supplies, catering for any event, from lavish weddings to small scale lunches. They even offer teaching classes in cupcake decorating, so you can learn how to make your own cute cakes, complete with decadent frosting and dainty adornments!
La Di Da Cakery's main range consists of 16 enticing flavours: Banoffee, Butterscotch, Cappuccino, Chocolate, Double Chocolate, White Chocolate, Chocolate Caramel, Caramel, Lavender, Lemon, Marshmallow, Strawberries & Cream, Vanilla, Red Velvet, Mint Choc Chip and Raspberry. This appetising assortment tends to all tastes, but they also provide monthly and seasonal cakes for added choice and novelty.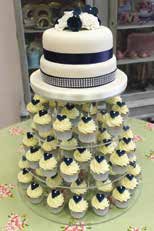 Their main clients are wholesale customers; supplying for cafes, delicatessens and garden centres, but they also offer corporate customers bespoke logo products. In addition, their services are available to the local community, and an online shopping system provides customers with a convenient platform to browse the delightful range and purchase products.
The wholesale specialists ensure each cake is made with meticulous attention to detail and infused with the best locally sourced ingredients. This loving care, thoughtfulness and devotion results in freshly baked cakes which are both beautifully decorated and quality tasting in equal measure. "Not only can we guarantee that the cupcakes will taste delicious, but they are always aesthetically pleasing too," Jess Gane, owner of La Di Da Cakery, commented. "All of our products are handmade on site, and we ensure that they are always of the highest possible standard, because quality is our main priority."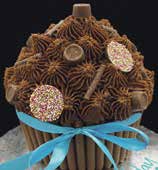 La Di Da Cakery can even arrange vintage afternoon teas, laying tables with eclectic vintage linen, crockery, cake stands and covers in the comfort of your own home for a tea party to remember. No matter the occasion, La Di Da will be there to provide splendour and elegance in the form of exquisite homemade cupcakes, caddies of tea and luxurious sandwiches.
In terms of wholesale, La Di Da Cakery offers a number of ways to sell their delightfully delicious handmade bakes. They offer mini boxes and taster boxes for variety in pretty little packages, or prepackaged podded cupcakes for stylish convenience, and single cupcakes just as they are for individual preferences.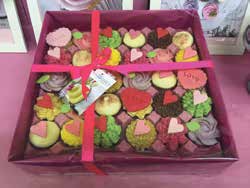 Jess is excited about the company's progression, "As a newly developed business, we have many plans for the future. Our main aim is to increase our brand recognition and the growth of our main product range."
Whether you fancy a variety of mini cupcakes or require a show-stopping celebration cake, you can rest assured that the La Di Da Cakery will tend to your every need with their superbly delightful cakes.
T 01276 64374