Ross Carlin, founder of The Buyer's Discovery Club is passionate about two things. Consumer choice and the genuine, independent brands who offer that choice.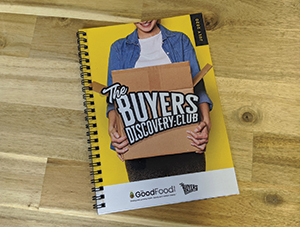 After spending a decade developing new products and working closely with retailers, Ross decided to go it alone, creating his own brand development & retail agency.
Business was good and there were lots of success stories; including launching the UK's first full keto range into retail, gaining a distribution deal in over 1,000 stores with a range of zero calorie sauce & syrups; as well as helping launch Bondi Coffee across 300 stores within just a year.
"We've worked with other mentors, what stands out is that Ross and the team are very specific in their advice and instructions. They were able to get us our first retail deal within 12 months, which is unbelievable." Misha Patel – Founder of Bondi Coffee.
Then in April with Covid-19 cases on the rise and lockdown in full effect, disaster struck! Events were cancelled, buyers were working from home and fledgling brands, unable to reach out started to really struggle to get their brand in front of distributors.
Ross came up with a unique solution.
The Buyer's Discovery Club.
In essence the Buyer's Discovery Club is a box. It's really as simple as that. Each package contains pre-vetted new products from independent brands looking to stretch their wings and make their mark in-store. Each box is carefully curated to a specific retail category and is then delivered directly to the front door the buyer responsible for that category.
As well as promoting brands, the Buyer's Discovery Club benefits buyers too, because each box contains products they're specifically seeking out. Ross and his team spend over 100 hours each month researching and testing new products to ensure buyers get only the best.
This research is important for the brands too, as if the product offering isn't quite on the mark, then approaching a retail partner in an unfinished state would be more harmful than good.
Once the buyers receive their products, they have time to sample them and give feedback. The feedback is invaluable to the brands as it indicates whether or not the buyer wants to discuss stocking the products in store. Which for Ross is the perfect outcome.
Of course, all feedback isn't always initially positive. It is, however, still extremely valuable as it provides crucial insights to where the product offering may be lacking. Whether that's a weakness in branding, the profit margins don't yet add up – or that the retailer simply didn't like the taste or texture of the product.
"Often brands aren't initially receptive to less than positive feedback – which is completely understandable. Most of the people behind the brand have been developing their product for years. It' their baby. A lot of blood, sweat and tears goes on behind the scenes and naturally they are very protective of their product. That said, 9 times out of 10 they come to see it more as 'constructive criticism' and use the feedback to make improvements to their products." Says Ross.
Since its launch the Buyer's Discovery Club has had some fantastic success stories, including sustainable Shore Seaweed products being a huge hit -with requests from over half the buyers wanting to discuss the brand!
"From the beginning, every month has led to at least one buyer looking to have further discussions with a brand. Last month we had 16 of our buyers requesting us to set up meetings with the products they'd received."
Currently The Buyer's Discovery Club services over 400 buyers working across the UKs biggest retailers, including Sainsbury's, Tesco's, Morrisons, Asda, Holland & Barrett, Selfridges… just to name a few! They are currently working across 4 product categories, including Free From, Chilled Beverages, Healthy Snaking and Vitamins & Wellness. Over the coming months that will be expanded to 8 and into the new year 20+, plus plans to go international.
From what was seen as a necessity has in a very short space of time become a really effective vehicle for both retail buyers and up and coming brands.
There's also a Buyer's Discovery Club LIVE event coming in December, which will bring together buyers and suppliers face-to-face in a Dragons Den meets Speed Dating – style format!
If you're a retail buyer or a new brand looking for a helping hand, make sure you contact the Buyer's Discovery Club.
info@buyersdiscoveryclub.com
buyersdiscoveryclub.com