Tip Tap & Top is a secure dispensing system which offers your customers the opportunity to taste Marron Liqueur's exciting range of artisan made liqueurs and spirit drinks before they buy.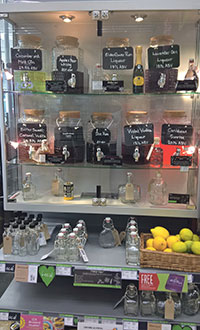 They select from an attractive range of glass bottles, (or have their own bottle refilled), with the option of having the bottle personalised and gift wrapped.
You are able to get a premium return with regular return sales and cross-selling opportunities within your store as many flavours go well with tonic and prosecco.
We provide all that is needed, a lockable glass cabinet, dispensers, liqueurs/spirit drinks, bottles tags and bags, and staff training all with no initial outlay, you pay only for what is used and, after a 3 month trial, a small monthly rental charge which includes continuing sales support and POS materials.
Tight on space? Don't worry. A 3 dispenser cabinet has a footprint of only 0.33m x 0.33m (1ft x 1ft), the 6/9 dispenser system stands on only 0.66m x 0.33m (2ft x 1ft). There are also shelf, wall mounted, and counter top options.
Interested? View details on: www.tiptaptop.co.uk and for Marron Liqueurs on: www.marronliqueurs.co.uk or call Ron on 01673 818478 or email: sales@marronliqueurs.co.uk