Food and Drink Matters is pleased to announce that Mecmesin Ltd has been selected as its highly regarded Testing Solutions Provider of the Month.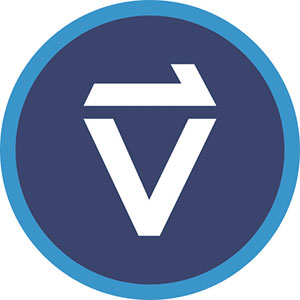 Having been established in 1977 by accomplished design engineer Jim Oakley, Mecmesin is proud to be celebrating its 40th anniversary next year. The privately owned company specialises in the supply of standard and bespoke force and torque test solutions utilised for component, material and finished product quality control.
The extensive range comprises application-specific testers, force gauges, torque gauges, tensile & compression testing systems and torque testing systems & software. Jenny Montgomery, Marketing Manager at Mecmesin, detailed: "From simple hand-held instruments to fully-comprehensive computer-controlled test systems, we design products to suit many different test applications, budgets and changing needs. As a leading designer and manufacturer of force and torque test equipment for quality control we offer precision test instruments and systems that are accurate, reliable and excellent value for money, enabling organisations to maximise productivity, identify defects, reduce waste costs and remain wholly compliant with in-house and international test standards.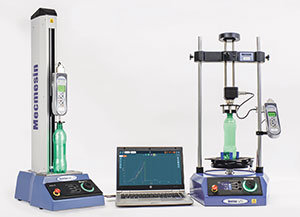 "Our focus has always been to provide an affordable alternative to the many higher-priced systems available, enabling small and large businesses alike to undertake quality control checks on their products without compromising on precision. The rugged design of these systems means they can withstand tough factory conditions and perform tests at the point of production rather than having to use expensive external laboratories to ensure consistent manufacture."
In addition to its product offering Mecmesin can provide onsite training and reliable calibration and repair services.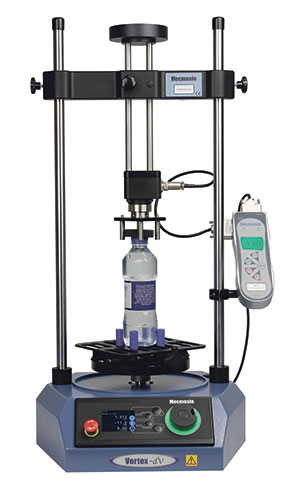 The company's latest releases include the Vortex-dV Digital Motorised Torque Tester, a versatile testing platform which offers unparalleled control whilst testing rotating component parts, valves, caps, hinges, handles and springs (for example) with its positional resolution of 0.1°. Similarly, the MultiTest-dV Motorised Force Tester is used for routine testing (for compressive bends, puncture, insertion/withdrawal and peel/adhesion etc.). The product, which is the first of a new generation of Mecmesin universal testers, is available in 0.5 kN, 1 kN and 2.5 kN models respectively.
VectorPro™ Lite Software is new precision data acquisition software designed to interact with the aforementioned MultiTest-dV and Vortex-dV test stands. This technology can be used to provide results storage, calculations, graph analysis and batch processing easily with its incorporated drag-and-drop approach and real-time capabilities.
Mecmesin's tailor-made capabilities have proven popular with customers from many sectors including adhesives & coatings, construction, personal care, education, electrical, textiles, food, agriculture, general engineering, medical, veterinary, packaging, sports & leisure and transport industries. Specific clientele in the food & drink sector include Bacardi, Britvic, Carabao Tawandang Co Ltd, Coca Cola, Danone, Heinz, Nestle, Pepsico, Princes Foods, Red Bull, SAB Miller, Schweppes and Tetra Pak.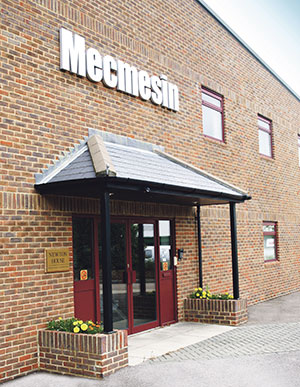 The test solutions are particularly popular within packaging environments and have been frequently utilised for compression, tension and torque purposes for top-load (PET bottles), peel (adhesive bonds), application & release torque (screw closures), actuation force (dispensers), tensile strength (ring-pulls, snap-caps, seams), compressive strength (carton packaging), push-out force (blister packs) and 'slip' and 'bridge' torque (tamper-evident closures).
Mecmesin can be found in West Sussex, although global expansion across the decades has resulted in the development of subsidiary companies situated in France, Germany, the USA, China and Thailand. In addition, the company has a strong distribution network that operates in more than 50 countries; a support system which enables the manufacturer to more competently facilitate the needs of its growing customer base.
T + 44 (0) 1403 799979
info@mecmesin.com
www.mecmesin.com