Here at Food and Drink Matters we are keen to introduce our readers to Bute Island, telling them more about the organisation's latest addition whilst awarding the team with our prestigious Dairy-Free Food Supplier of the Month profile.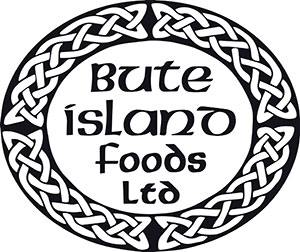 Bute Island has been proudly supplying animal-free foods to leading retailers throughout the UK ever since its establishment in 1994 by three friends set on finding a suitable, tasty alternative to cheese. Over 20 years of experience has enabled the company to become one of the foremost providers of vegan and dairy-free cheese products, which is a commendable achievement in a contemporary age where 'free from' products have become a prevalent industry trend.
From its custom-built state-of-the-art facility the group can ably facilitate the needs of vegans and individuals that are lactose-intolerant with its delicious tasting Sheese, as Bute Island's Managing Director Debbie Dawson told us: "We are fortunate to be working with a small but dedicated team, producing an exciting range of free-from products that we are very passionate about. We believe that you don't need to harm animals to produce tasty free-from alternatives and we consider if you switch you will quickly notice the difference."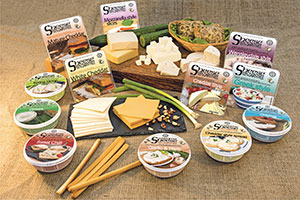 Interestingly, Sheese comes in a variety of forms for even greater customer choice. The newest block dairy free cheeses are available in the following options: Blue, Edam, Gouda, Greek, Mature Cheddar, Mild Cheddar, Red Cheddar, Smoked Cheddar, Strong Cheddar, White Cheddar, Cheddar with Caramelised Red Onion and Wensleydale with Cranberries, whilst the earliest classics embrace the flavours of Cheddar with Chives and Mozzarella.
The spreadable selection, named Creamy Sheese, consists of Original, Cheddar, Chives, Garlic & Herb and Sweet Chilli alternatives. The soft spreads make a perfect accompaniment to savoury snacks, proving particularly popular on crackers, toast and baguettes, although the Original Sheese can also be used to create irresistible vegan desserts (such as cheesecake).
The newest product is Grated Sheese, although the Mozzarella, Mature Cheddar and White Cheddar Style Slices, which can be conveniently placed and/or melted on sandwiches, burgers, toasties and pizzas, are also recent additions. Regardless of their texture the cheese substitutes are authentic in taste, affordable in price and rich in flavour whilst being regarded the healthier choice in comparison to the traditional dairy product.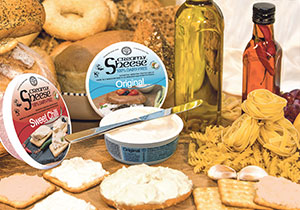 Bute Island also stocks VeganDeli, a tasty wheat-based range that is entirely free from meat, egg or dairy-based ingredients. The 100% vegan foods – Gourmet Morcilla, Smoked Gourmet Chorizo, Mock Ham, Mortadella, Smoked Mortadella, Italian Gourmet Mortadella and Mortadella with Sweet Peppers – can be enjoyed straight out of the packet or heated just as you would with any typical meat product.
"New product research and development is something that we love," Debbie concluded. "With an estimated 500,000 or more vegans living in the UK alone, the demand for animal-free alternatives has never been higher, and set to increase far more in the coming years. Creating new ground-breaking products and improving on the old ones is very important, and we can spend many months trying to create something new and it's so exciting when you have a breakthrough and we achieve our target with our very strict hit list.
"Our newest products have proven very popular at exhibitions and we're very excited that they are now available in the shops (some selected to be Tesco's own brand and others are supplied by Sainsbury's). We continue to sell to wholesalers in the UK and abroad and have even started selling Sheese to a Finnish supermarket chain."
If you are interested in supplying any of the aforementioned products then please contact Bute Island today. Consumers can also purchase Sheese and VeganDeli items by visiting the website provided below to source their nearest stockist or to place an online order.
Contact: Directors, Mark Crichton and Guy Crichton
T 01700 505357
foods@buteisland.com
www.buteisland.com
www.facebook.com/buteislandfoods
www.twitter.com/buteislandfoods