SSI Schaefer has implemented one of the largest and most modern beverage distribution centres in Germany as a general contractor for A. Kempf Getränkegroßhandel GmbH, a subsidiary of Edeka Südwest.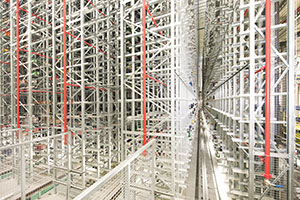 Intelligent control of the flow of goods and a combination of manual and fully automated picking strategies ensures maximum levels of efficiency.
In its capacity as a general contractor, SSI Schaefer has recently completed a project for A. Kempf Getränkegroßhandel GmbH – a subsidiary of Edeka Südwest that provides beverage services as part of Edeka's food retailing operations in south-west Germany – creating one of the largest state-of-the-art beverage distribution centres in the country. The contract covered all the building construction work, including the outdoor facilities and system engineering, and training for employees.
SSI Schaefer has constructed a 17-aisle high bay warehouse (HBW) and a 6-aisle automated miniload system (ASPW) with tray storage locations. An electric monorail system (EMS) is installed above this for internal transport. Gantry robots, which are supplied with whole pallets directly from the HBW, carry out the depalletising and branch-specific assembly of order pallets with fast movers.
Edeka ordered the goods according to an ABC classification system as part of a profitability analysis. Processes were defined, and the automation potential and its economic effects compared to person-to-goods picking were considered. The most cost-effective solution proved to be a combination of goods-to-person and person-to-goods picking.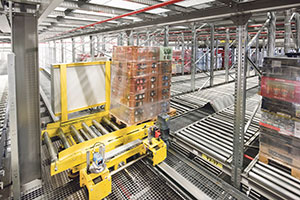 To pick the 750 medium-mover beverage products, the lowest level of the racking system in the HBW has been set up as channel storage with 18 picking tunnels and is supplied by the SRMs from behind. At the front of the tunnel, the employees pick the cases manually from pallets onto pallets. SSI Schaefer Project Manager Frank Boberg describes one of the advantages of the solution as follows: "The replenishment locations directly from the HBW and behind the staging units reduce replenishment times". WAMAS generates the picking orders in a route and order-optimised manner – and communicates them to the displays on the picking vehicles via WLAN. Once picking is complete, the employees transfer the order pallets to the conveying system. On their way to the outgoing goods area, the pallets are automatically wrapped in foil and labelled. The same process takes place for order pallets, which are temporarily stored on the staging locations in the HBW ready for dispatch.
The highest degree of automation is used for the 60 fast movers, consistently refillable beverage crates. Recurring processes and minimal differences in the shapes of the beverage crates enable the gantry robots to assemble the order pallets according to the branch's needs in a fully automated manner. The crates on the single-item pallets retrieved from the HBW are automatically depalletised by the gantry robots based on the order and transferred to a conveying section.
T +44(0)1264 386600
solutions@ssi-schaefer.co.uk
www.ssi-schaefer.co.uk