Here at Food and Drink Matters we are delighted to feature Fountain Food Machinery Ltd as our selected Food Machinery Supplier of the Year.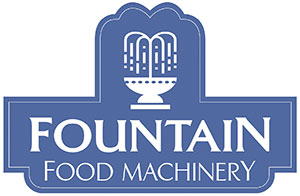 The massively successful enterprise is a growing subsidiary of the well-established prepared vegetable specialist Fountain Foods, which is best known for supplying a high quality range of chilled and frozen processed fruit & vegetables and savoury favourites in the form of battered & breaded frozen onion rings, garlic bread, frozen mushrooms and the like. 15 years later it became apparent that the business had the proficiency, contact base and resources to diversify into the associated field of food equipment, and so the team set up Fountain Foods Machinery in order to effectively sell their redundant (yet still operationally efficient) apparatus.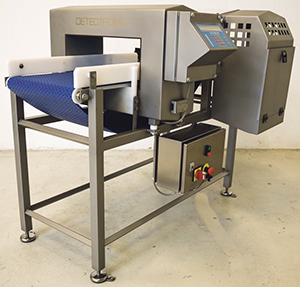 Director, Robert Lunn, was keen to tell us more about the company's capabilities. "The quality of our equipment is second to none," he commented. "Our focus is to provide quality used and reconditioned industrial food processing machinery to businesses around the world, offering independent advice to customers on the most affordable and effective solutions for them. We have excellent knowledge of the industry as one of our businesses is associated with food manufacturing, which we believe gives us the skills to offer advice and support when buying quality used equipment.
"We understand that downtime costs money and therefore aim to react as quickly as possible to reduce downtime and save on costs. Our managers and engineers have a wealth of experience and are highly knowledgeable in order to assist customers in choosing the right machinery for them. We are able to solve problems in a timely manner and strive to send a service engineer to you the same or next day – which is quicker than most of our competitors."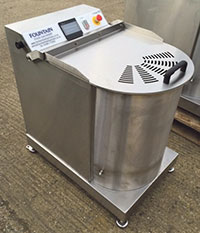 This organisation stocks a varied assortment of machines suitable for customers working within the food & beverage industry, although its main specialism is metal detector rental. This part of the business has progressed significantly because clients appreciate the team's efforts in sourcing the most affordable and suitable solutions for their application, whilst also allowing them the convenience of paying a fixed price on a monthly basis. Supplying every make and model of metal detectors ensures customers can choose from a vast variety of components, all of which have been kept in pristine condition and equipped with a warranty and calibration certificate.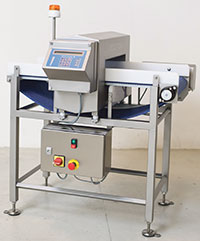 Particular products of note include the Metal Detector Check Weigher, which integrates a Ceia metal detector head (consisting of a 350mm by 130mm aperture and a belt width of 260mm), and the Detectronic Metal Detector, which is a favourable option for those requiring a unit for use on the go. The completely portable device has a compact structure for easier transference, and its small foot print is an additional benefit (measuring only 1,200mm long and has a 220mm wide by 100mm high working aperture). Other examples are the Safeline Metal Detector, which is suitable for the dairy industry, the Cintex Metal Detector/Check Weigher with dipping belt reject, the Fortress Metal Detector (ideal for after a spiral freezer) and the Large Bulk Metal Detector, which is best utilised for boxes and blocks of product.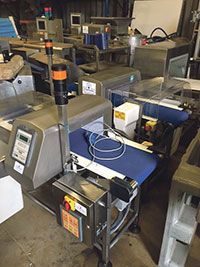 As well as selling new and used metal detectors and check weighers, Fountain Food Machinery can provide full servicing and calibration. Its workforce, which comprises many dedicated and skilled engineers, can undertake quality maintenance and repair works, conducting call outs for breakdowns where necessary. It is this comprehensive service, along with the promise of a fast delivery and competitive costing, which has enabled the brand to become the number one choice for specialised food machinery. The varied product portfolio consists of conveyors & elevators, dicing & slicing equipment, dig/surge tanks, mixers, packaging, peelers, pumps tanks, vessels, kettles and check weighers; utensils utilised by organisations working within the vegetable, ready meal, meat poultry, seafood and baking sectors.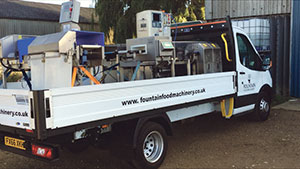 The growing and vibrant business has acquired so much interest that expanding became a necessity; as a result the team recently opened a new showroom in Wisbech in Cambridgeshire to facilitate the increased demand for its product and service offering. The premises covers 120,000ft² of space and will enable customers to peruse the varied selection of machinery available before committing to a purchase. In order to continue enhancing the customer experience Fountain Foods Machinery is now making arrangements to move into a new warehouse facility and will subsequently prioritise the employment of additional staff members.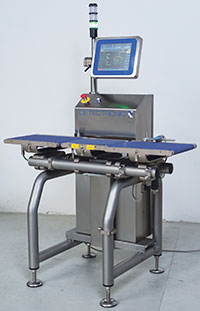 Ann Lunn of Fountain Food Machinery told us more about the company's performance in recent times and its plans for the future. "The last 12 months have been very good for us; we have been extremely busy and have experienced progress above our expectations," she said. "Sales are as we predicted but the rental of metal detectors has exceeded our anticipated performance rate. We haven't been too affected by the economic crisis; if anything it has made us even busier, as people are buying refurbished machines rather than new ones in order to help them keep their costs down. Everything seems to be working extremely well at the moment and as the business continues to expand we have taken on one part time engineer, another full time engineer and a part time office administrator.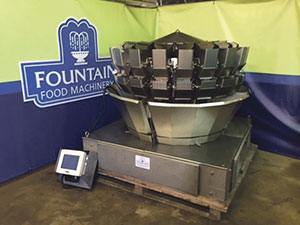 "This year we have managed to become safe-contractor accredited, which testifies how committed we are to achieving excellence in health & safety – we find this a very important factor in the workplace environment. Going forward we are hoping to continue with our expansion; we now have a very good team of service engineers in place with over 30 years of industry experience. We feel we are able to offer our customers advice and support when buying factory machinery and hope that this will keep them coming back to us. Overall we are amazed to have been selected by Food and Drink Matters and are very pleased to think that a relatively new company has been chosen as a Company of the Year."
If you are looking for a solution fit for your application then please don't hesitate to contact Fountain Foods Machinery or visit the company website for daily updates and full product details.
T 01945 773487
sales@fountainfoodmachinery.co.uk
www.fountainfoodmachinery.co.uk
www.metal-detector-rental.co.uk