London based family brewery, Fourpure Brewing Co., will partner with leading folding carton producer, Graphic Packaging International, to offer craft beer tasting sessions to attendees of Packaging Innovations 2017.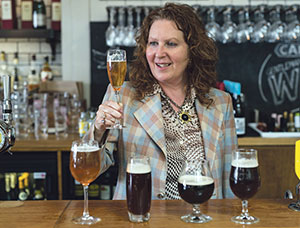 At 11am, 1pm and 3pm on both days of the event, visitors will be able to sample Fourpure's Oatmeal Stout, Flatiron Red and IPA, which will be showcased in live demonstrations by award-winning writer, public speaker and alcoholic drinks expert, Jane Peyton. The GPI team will also be on hand to demonstrate the benefits of the company's innovative can and multipack carton solutions, for the growing UK and European craft beer sector, as part of its 'Cocina Graphica' Barcelona street food-themed concept.
GPI European Marketing Manager, Rakhee Karia, commented, "I'm delighted to announce our partnership with Fourpure at Packaging Innovations. It represents a very natural collaboration as both our operations have a commitment to quality, innovation and efficiency at their heart.
"Together, we will be showcasing how a complementary relationship between packaging and product can prove extremely valuable to brand owners seeking to enhance on-shelf stand out and maximise consumer appeal."
Packaging Innovations will not be the first time that GPI and Fourpure have joined forces to contribute to the growth of the craft beer sector. The two companies first worked together in 2016, when GPI supplied a Quikflex® 200 packaging machine to Fourpure. The investment enabled the company to package 330ml cans for the hospitality and FMCG sectors. Due to the success of this venture, Fourpure is now actively looking to secure co-packing business opportunities with other craft brewers.
To take part in the GPI and Fourpure craft beer tasting sessions, please visit stand A24 at 11am, 1pm or 3pm on 1st and 2nd March, at Packaging Innovations, NEC, Birmingham.
Alternatively, please contact GPI or Fourpure for more information.