Food and Drink Matters is proud to present Voiteq as its Voice Technology Company of the Month.
Established in 2001, Voiteq was the first reseller to bring Vocollect Voice into the UK and Ireland. It was the chairman Frank Heald who quickly realised the product had a solid place in the market after his quest to operate a paperless warehouse led him to discover the convenience and effectiveness of a voice-directed management system.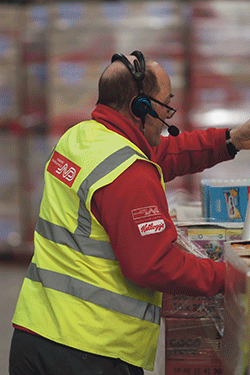 The in-house team at Heald's Day & Nite successfully developed the software and Voiteq then continued to expand on these technological solutions, experiencing progressive growth until they became the channel supplier of this product. 2009 saw the formation of a holding company named Centriq Group and the acquisition of Cirrus Logistics, a specialist in supply chain decision support using modelling and simulation.
Voiteq support a whole range of customers across the UK, France, Germany, the Netherlands, USA, Canada and the Middle East. The voice-directed workflow solutions have application in pretty much every conceivable industry, with clients in the retail, apparel, consumer goods, food and beverage, grocery, publishing, pharmaceutical and automotive sectors. Customers include Kellogg's, Waitrose, Sainsbury's, Brakes, WHSmith, John Lewis, Gist, NISA, Palmer & Harvey, Heron Foods, St Austell Brewery, Connect Distribution and Holland & Barrett.
"In addition to the standard productivity and accuracy benefits Voice offers over other technologies such as screen and keyboards (or paper-based systems), Voiteq's intelligent execution systems and deep operational knowledge gives our customers unmatched improvements in process efficiency, service levels and user satisfaction," Margarita Barnfield, Group Marketing Executive at Voiteq, explained. "Our world-class 24/7 system and hardware support service is consistently quoted by customers as being a differentiator over our competitors.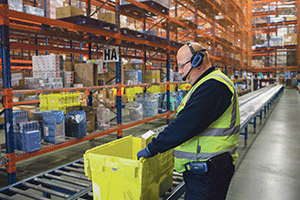 "The VoiceMan execution system is robust and scalable, ensuring the efficient performance of shop-floor warehouse operations such as picking, put-away, replenishment, receiving, loading and cycle-counting. VoiceMan optimises business processes, simplifies workload management and provides real-time visibility."
Isabel McCabe, Managing Director at Voiteq UK, said the company has thrived in recent times. "Ongoing investments and new customer procurement assisted us in experiencing our best performing year to date," she said. "This continued growth has encouraged us to carry on pushing far and beyond with our voice-recognition technology."
Their reputable status was firmly clinched when they were presented with several awards last year; having been recognised as the Supplier of the Year by Bidvest 3663 and the EMEA Partner of the Year at Honeywell-Vocollect, as well as winning the Supply Chain Innovation category for IGD.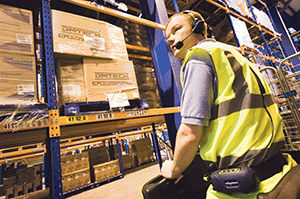 According to Margarita, Voiteq are set to flourish further in the upcoming months, "We will continue to enhance and implement our market leading warehouse voice solutions for local, national and multi-national customers. We will also expand the use of voice beyond the warehouse, particularly into retail stores and into the maintenance, repair and inspection markets."
Isabel concluded, "It feels absolutely fantastic to be chosen for this award; we believe this profile is a justification of all of our hard work here at Voiteq, and the exposure is very valuable to us."
T +44 (0)844 894 0322
www.voiteq.com