Food and Drink Matters is extremely proud to present Kite Packaging with its highly prestigious and richly deserved 'Outstanding Achievement Award in Packaging' for their dedication and innovation in the industry.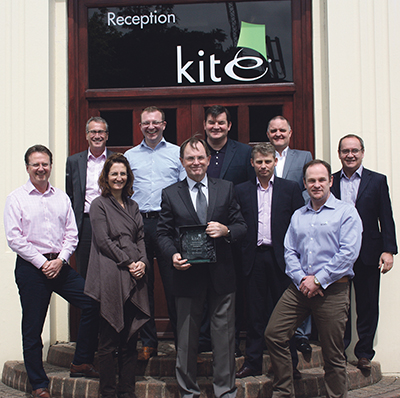 Since its formation as a true start-up back in 2001, Kite Packaging has led the way in packaging innovation and has grown to become the UK's preferred supplier of packaging materials satisfying customers in a range of industries. Their extensive expertise ranges across a variety of packaging products, solutions and services.
Product innovation is the key to Kite Packaging's tremendous success. As experts in developing industry specific technical solutions, the company works hard to develop the correct range of packaging products, tailored to the requirements of their customer base.
"Kite Packaging strives to go one step further for our customers," commented Managing Partner, Gavin Ashe. "The core of our business concerns looking after people. With us, it isn't just about the products – it's about providing guidance, the necessary research & development and best in class service.
"From day one we have been employee owned, so every single employee can share in the benefits that come from giving great customer service, making us unique within our sector. We believe that 'customer satisfaction matters so much more when you own the business.' All Kite employees have a financial investment and all have shares within the business. It means everyone is passionate about the success of the business."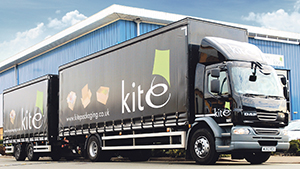 A large part of their expertise is focused on the Food and Drink Sector as they are high volume users of packaging. Specialist packaging is required throughout the industry to suit many different products and Kite Packaging have the significant expertise required to offer quality solutions to suit their exact needs.
"One of our divisions is dedicated to automation and system solutions and our other division are specialists in pallet wrap," explained Gavin. "These have allowed us to open up in food and drink production and manufacturing sectors and support them in delivering a range of innovative solutions & expert advice. We also invest heavily in research & development & consequently have bought several patented products to market. We constantly look to innovate around improved pack performance, improved operating time & limiting environmental impact."
Some notable products in the range include the High Performance Stretch Film. Offering one of the most extensive ranges of stretch film on the market with the addition of new films, such as high performance and ventilated pallet wrap, Kite can provide solutions to an even more diverse range of companies. Kite's high performance stretch films are the next generation of traditional films and show large savings if used correctly and are cost-effective against traditional stretch films.
The new range of ventilated stretch film is one of the more specialist films Kite offer. Suitable for a variety of specific industries and applications thanks to its unique properties, the film provides excellent airflow around wrapped pallets, eliminating the build-up of condensation and preventing the development of bacteria that can occur when using regular stretch film. The range consists of 4 types of ventilated stretch film; 2 for hand application and 2 for machine application.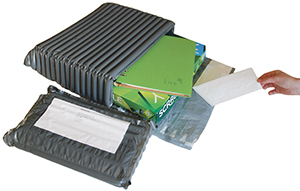 Innovative protection in the Food and Drinks industry has grown in popularity in recent years – particularly with users who are sensitive to the need for good quality, reliable protective packaging at very competitive prices. The new Bottle Packs from Kite Packaging are a true example of this. The easy to assemble cardboard boxes for 70cl bottles are delivered flat packed and simply fold up, quickly and easily into their 3 dimensional shape. The integrated design of the internal divider cells mean they pop fully into place and prevent the bottles from rattling and knocking together, reducing the likelihood of damage in transit.
"Innovation is a key focus of ours," Gavin said. "We took an existing solution and innovated. The new range now offers integrated internal dividers as opposed to separate ones – increasing strength and durability. The unique design allows the box to be made up quicker than traditional alternatives so is ideal for packing departments where speed and volume throughput is important."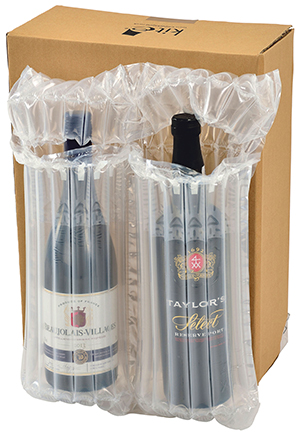 Specifically designed for protecting glass and delicate items, Kite Packaging's range of Air Shock bottle packs are particularly ideal for those transporting valuable and fragile goods where there is a high risk of damage during transit. Protection using this robust and lightweight air pouch solution will significantly reduce pack weight and is also available with a single outer wall box for added security and protection. Delivered un-inflated, Kite's Air Shock is easy to store, minimising the amount of space required.
The latest and most advanced product launched by Kite Packaging is the patented range of Grey Air shock mailers. Following continued work on research and development and in response to customer demand, the range was designed to improve protection for industries such as e-commerce particularly businesses that send out items such as bottles, perfumes, glass, jewellery and electronics.
Along with enhancing its exceptional product portfolio, Kite Packaging has invested heavily for future growth. In 2015 they acquired Burnhead Packaging in the Southeast, enabling them to strengthen their multi-branch capability for major key accounts. The company also acquired Golden Valley Pallet Wrap specialists at the end of last year.
"We already had fantastic knowledge of pallet wrap and a specialist team, however this has allowed us to grow within this market and expand our offering," Gavin explained. "We have developed many of our existing sites which led to investing in property to give us space to adapt to sales growth along with the introduction of new trucks and trailers to meet the growing demand of our customers. We are also big on investing in people across the group and have seen a significant increase in new employees to our UK branches throughout the past few years.
"We are seen as an innovator in our sector. We have been the recipients of numerous awards, notably The London Stock Exchange Group who included us in their 'Top 1000 Companies to Inspire Britain in 2016' report. This report identifies companies who have significantly outperformed sector peers and have seen annual increases in revenue over the last 4 years."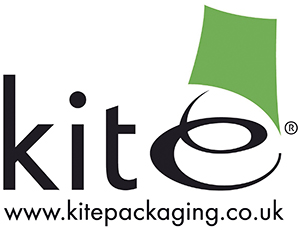 "We are constantly undergoing change and evolution," Gavin concluded. "As a business we plan to grow year on year, with a dedication to continuous adaption and expansion of our impressive product range. Because of our continual growth, we aim to bring something new to market every 18 months. Our plan for the future is to continue to grow organically, increasing our staff and continuously introducing new and exciting products."
T 024 7642 0065
enquiries@kitepackaging.co.uk
www.kitepackaging.co.uk