Sea Products International Limited (SPI) is part of an international seafood group, specialising in the sourcing and marketing of fish and seafood from around the world.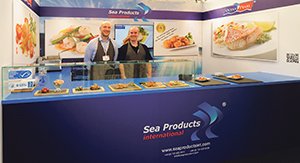 Serving the UK market for over 40 years, our strength lies in our long standing relationships with leading producers from around the globe.
We pride ourselves in consistent levels of quality and service that allows us to establish strong relationships with our customers – who include national and regional wholesalers, cash & carries, Chinese and Indian distributors, major restaurant chains, fish merchants, food manufacturers and retailers. We work very closely with our customers, supply partners and legislators to ensure that we can provide a full range of items developed to meet the needs of the dynamic UK market.
Sea Products International Ltd recognises the importance of the sustainable management of fisheries and the marine environment. We strive to develop our trading relationships to increase awareness of the environmental impact of their operations, and how they can minimise any detrimental effects which their activities may cause.
Whether you require commodity products, added value or bespoke product solutions, please contact us to discuss your requirements.
T +44 (0)121 622 5111
F +44 (0)121 622 6123
info@seaproductsint.com
www.seaproductsint.com