Food and Drink Matters is extremely proud to present SPECTRO Analytical with its highly prestigious and richly deserved Editor's Recommendation profile due to their prominence in the industry and dedication to continuously provide innovative products and an outstanding service to customers.
With elemental analysis continuing to develop at a fast pace worldwide, there is a growing need for ultimate precision, complex system requirements and expanding fields of applications for even routine operations. SPECTRO leads the progress advancements in this field by providing new solutions and continuous innovations.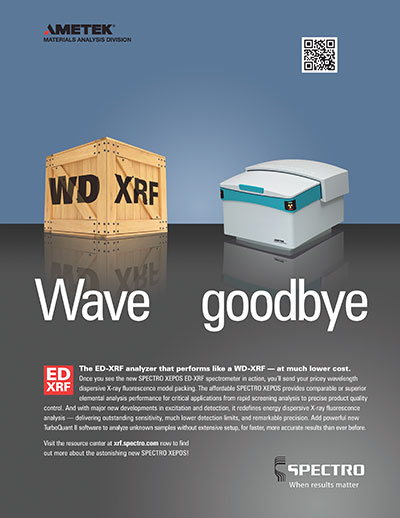 For more than 35 years SPECTRO Analytical has supplied customers around the world with the most advanced systems and developed solutions for elemental analysis for a broad range of applications. The leading supplier employs optical emission (Arc/Spark OES, ICP-OES) and X-ray fluorescence spectrometry (XRF) technology which are used for the elemental analysis of materials in industry, research and academia. Their superior technical abilities allow the company to deliver measurable benefits to each and every customer.
SPECTRO Analytical is a member of the prestigious AMETEK Materials Analysis Division, the leading global manufacturer of electronic instruments and electromechanical devices. With annual sales of approximately $4.0 billion and approximately 15,000 colleagues working at more than 120 manufacturing facilities, sales and service centers in the United States and around the world, it is no wonder AMETEK has such an unrivalled reputation in the industry.
Being part of such a renowned organisation puts SPECTRO Analytical in an envious position in the industry. The superior knowledge and experience of SPECTRO along with AMETEK's exceptional reputation is the recipe for a winning combination in the market.
"What makes SPECTRO Analytical different is our ability to innovate," commented Graham Hibberd, UK and Ireland Manager at SPECTRO Analytical. "We specialise in providing instruments which offer the best performance in the market.
"Having joined AMETEK around 6 years ago, has enabled SPECTRO to expand into more markets, produce products more rapidly and expand our presence in the US."
SPECTRO Analytical began life as a 3 man enterprise back in 1979. It has since grown into a 400 strong organisation and has installed more than 40,000 systems around the world with a comprehensive ICP, XRF and OES product range.
"Our constant need to fulfill customer expectation is what has been the backbone of SPECTRO for so many years," continued Graham. "We strive to do things a little different from our competitors and each one of our products offers something unique to fulfill a wide range of needs. Their high performance, low running costs and innovative nature is what sets them apart from any other products on the market.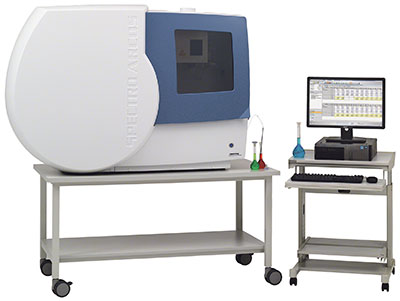 "When attending laboratories which are using our equipment along with our competitors' tools, we usually find our equipment is reserved for the more strenuous, difficult samples. This is due to their higher reliability, ease of use and ability to measure a whole host of different samples."
The name SPECTRO means innovation for Arc/Spark-OES, ICP-MS, ICP-OES, ICP-AES, and X-ray fluorescence technologies. They are the leading supplier of X-ray fluorescence (XRF), ICP-OES/AES, ICP-MS, and Arc/Spark-OES instruments for science and industry.
The spectacular X-ray fluorescence spectrometers (XRF), used for elemental analysis or trace element analysis, is a true world beater in technology. In recent years, SPECTRO has set standards by further developing X-ray fluorescence technology to create many new fields of operation for ED-XRF spectrometers.
Energy dispersive X-ray fluorescence technology (ED-XRF) provides one of the simplest, most accurate and most economic analytical methods for the determination of the chemical composition of many types of materials. It is non-destructive and reliable, requires no, or very little, sample preparation and is suitable for solid, liquid and powdered samples. It can be used for a wide range of elements, from sodium (11) to uranium (92), and provides detection limits at the sub-ppm level; it can also measure concentrations of up to 100% easily and simultaneously.
The company offers a complete range of X-ray fluorescence portable spectrometers such as the small handheld XRF, xSORT and the SPECTROSCOUT, a portable spectrometer that brings lab-grade analysis into the field, as well as bench-top ED-XRF spectrometers for special elemental analysis tasks, multi-purpose laboratory spectrometers for trace element analysis, and a wide range of online solutions.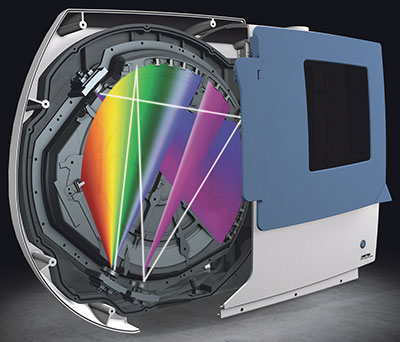 Newly introduced to the ED-XRF range is the SPECTRO XEPOS XEP05. The extremely versatile spectrometer optimises excitation using polarisation and secondary targets and comes with an auto-sampler for up to 12 items and with intelligent software modules. Altogether XEPOS delivers high sensitivity and accuracy for the entire element range from Na-U and makes the SPECTRO XEPOS one of the most versatile elemental analysers available.
These advanced products are typically used in the analysis of oils and fuel, plastic, rubber and textiles, pharmaceutical products, foodstuffs, cosmetics and body care products, fertilizers, minerals, ores, rocks, sands, slags, cements, heat-resistant materials, glass, ceramics and wafers. They can also be used for the determination of coatings on paper, film, polyester, and metals.
Over the last 25 years ICP-OES spectrometers, also known as ICP-AES or ICP plasma spectrometers, have become an indispensable tool for chemical elemental analysis. Optical emission spectrometers with inductively coupled plasma (ICP plasma) excitation sources offer ease of use, high sensitivity and precision and relative freedom from interferences. ICP-OES systems have now become the analytical method of choice for a wide range of applications.
Since the introduction of its first ICP spectrometer, SPECTRO has managed to continuously set performance benchmarks. Today, the new SPECTRO ARCOS, an ICP instrument with a unique optical system, is probably the most powerful, flexible, and fastest ICP spectrometer, the world has ever seen.
From its many subsidiaries in the UK, France, South Africa, China and India and distributors in other countries, SPECTRO Analytical supplies these innovative products to many industries around the world. These include metals, petrochemical, chemical, environmental, pharmaceutical and geology as well as food & agronomy, cement, ceramics, semiconductor, aerospace, mining & prospecting, research/university and government/military.
"Our customer list covers the spectrum from small to large international companies in many different industries," stated Graham. "SPECTRO is proud to be a vital partner in providing quality products to improve both safety and offer superior analytical analysis to our customers.
"At SPECTRO we have embraced Total Quality Management as the core of our company philosophy and culture. Each and every employee is committed to doing things right the first time and the quality is defined as the conformance to requirements and from zero defects through continuous quality improvement plans. Our measurement of quality is the cost of non-conformity, which is exceeded by the subsequent cost of getting it right which is exceeded by the costs of lost opportunities and lost customers."
Not only does SPECTRO supply a range of superior products, they also ensure that those products stand the test of time. The AMECARE performance services ensure peak performance and maximum return on investment over the life of your equipment. This is delivered by proactively maintaining your equipment to maximize availability, optimising solutions to meet your unique applications and enhancing user skills by providing access to product and application experts.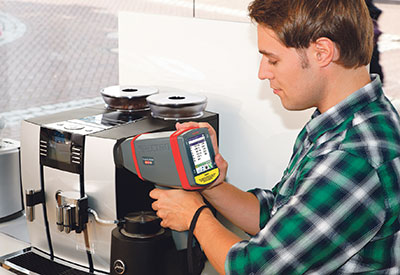 With over 50 locations around the world, AMECARE is available whenever you need it allowing you to pick and choose the service, support and training components you need to meet your individual requirements.
"Our qualified technicians, engineers and scientists are always on hand to provide fast and reliable service and support," continued Graham. "Training courses for products are also provided on a regular basis and can be held at our training centres at our headquarters in Germany, USA and Hong Kong and can be tailored to your specific requirements."
When asked to discuss the company's plans for the future, Graham concluded: "Our aim is to be the preferred supplier of Analytical Instrumentation for our served markets globally. We will do this by understanding and focusing on our customer's needs, providing world-class service and support as well as designing, manufacturing and supporting quality innovative high performance products in partnership with our suppliers, for our customers.
"Our workforce is also extremely important to us and we treat our employees as our number one asset. We are committed to their personal growth through continued development and empowering them to make decisions that will improve the quality of our products and services. By achieving these goals, we will be a valuable and responsive partner to our customers and our suppliers."
SPECTRO Analytical attends many events and trade shows throughout the year. They enjoy meeting and liaising with customers in order to gain feedback and introduce new products and services. A regular show for the company is Lab Innovations 2which takes place annually at the NEC in Birmingham, and they have recently attended the Innovate Ireland Conference and Exhibition in Dublin.
This year will be no different with many exciting shows on the calendar. This year they will be attending…
Wednesday 23rd March, North Western Universities Purchasing Consortium (NWUPC) Annual Conference 2016. University of Liverpool http://www.nwupc.ac.uk/news/item/nwupc-annual-conference-2016
4th-6th July 18th-Biennial-National-Atomic-Spectroscopy-Symposium, Liverpool John Moores University
https://www.ljmu.ac.uk/about-us/events/bnass-2016-the-18th-biennial-national-atomic-spectroscopy-symposium
Wednesday 15th June, British Crystallographic Association, XRF Industrial Group Meeting, University of Leicester: https://sites.google.com/site/bcaxrf/meetings/15-june-2016/
2-3rd November LabINNOVATIONS, NEC Birmingham: www.lab-innovations.com
For more information on SPECTRO Analytical's products and services contact them today to find out more. The qualified, experienced team are more than happy to assist and advise you on the products that best suit your requirements.
T +44 (0)116 246 2950
spectro.info@ametek.com
www.spectro.com