Food and Drink Matters is extremely proud to present Mom's Fabulous Hot Dogs with its highly prestigious and industry acclaimed Editors Recommendation profile.
Established over 4 years ago by Managing Director Nick Pagett, Mom's Fabulous Hot Dogs supplies leisure centres, theme parks, football stadiums and many more, with delicious tasting hot dogs. Available in a range of mouth-watering flavours including Mom's Original, Mom's Chilli Cheese, Mom's Beefy Dog, Mom's Classic and the huge best seller Mom's Bad Boy, there is truly something to suit everyone's taste buds.
"Mom's Fabulous Hot Dogs have the best flavours and textures available on the market," commented Nick. "We work hard to ensure there is something for everyone and never compromise on quality."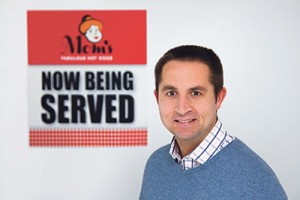 New to the ever expanding range is the specialist Bacon 'n' Cheese Dog. Filled with fresh cheese and wrapped with bacon, this hot dog is set to rival all of its kind with its mouth-watering taste and devilish flavour. Mom's Fabulous Hot Dogs are leaders in producing only gourmet hot dogs as well as being the only company to offer a range of hot dogs perfectly sized for children under the name Mom's Junior.
Whether on the street, at your venue or on the forecourt of your store, Mom's can be served anywhere with the help of their eye catching, custom designed equipment. Mom's Retail Steamers are perfect for convenience stores, petrol station forecourts, kiosks and events. Quick to install and easy to run, they're designed to keep hot dogs and rolls in perfect condition for hours on end.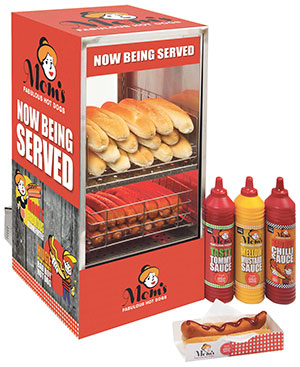 To accompany the steamers, a sauce station made to the company's own design and specification in stainless steel is available which holds all three fabulous Mom's sauces including Tasty Tommy Sauce, Mellow Mustard Sauce and Bad Boy Chilly Sauce, keeping counter tops neat. Recently launched is the branded topping station which holds 6 of the favourite toppings to add unique taste and flavours.
To help promote these exceptional treats, Mom's can brand your kiosks and provide a package of Mom's sales support material including banners, posters, labels, stickers, screen images and serving trays. The branded equipment is also not only eye catching but is designed and built to Mom's own high specifications to keep products in tip top tasty condition.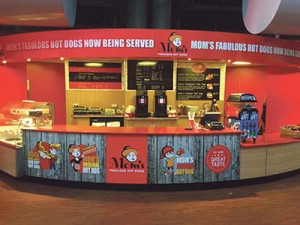 Mom's are always developing new recipes, and creating unique bespoke products for their larger customers, giving them an edge in the market. The company has a multi-temperature distribution in the UK and also supply throughout Europe to many major retailers, venues and food service customers with one of their main customers being Delaware, a global leader in hospitality and food service.
For more information, contact Mom's Fabulous Hot Dogs on +44 (0)845 548 2100, email: sales@moms-uk.com or visit the website at: www.moms-uk.com