Following the successful launch of the Edgar's Choice brand of premium bar snacks the company have now made their distinctive products available in packs designed to complement stylish bars.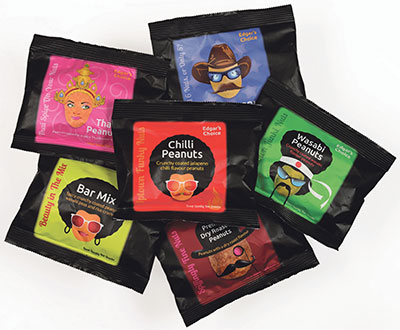 Using distinctive packaging the packs are designed to attract attention and have flavours that will be remembered by customers.
For bar managers looking for something different this premium range of peanuts and other snacks from Edgar's Choice feature flavours from round the world using exotic spices and including Jalapeno, Wasabi, and Premium Dry Roasted peanuts in a special coating for more flavour. Specifically branded to attract attention the single portion packs are available in seven different flavours and are gas flushed to ensure long life, product quality and extended shelf life.
The range also has a Bar Mix selection with spicy coated peanuts, rice crackers and wasabi peas and all the products will appeal to bar customers that want a change from the snacks currently available. The peanuts and snacks are roasted in peanut oil which is lower in poly unsaturated fats, and represents both a healthier and better tasting product.
Developed over the last two years the Edgar's Choice brand has been developed on the expertise gained from over 60 years of experience in the food industry.
The coated peanuts are manufactured using unique spice blends which coat the roasted peanuts to form a crunchy case and use the best quality ground peanuts and tree nuts sourced direct from the best growing regions around the world.
T 01483 563323
Chris@edgarschoice.com
www.Edgarschoice.com