When the layout of a commercial kitchen locates services such as sinks, dishwashers, pasta and combi ovens away from connection to gravity drainage, designers and installers will need to select a "pumped" wastewater system as an alternative.
Floor Mounted Pump Systems – often the perfect, but little understood, solution!
Whilst a floor mounted wastewater pumping system is a relatively small part of a kitchen project, it requires accurate specification to ensure reliable operation and long pump life. The consequences of a pump breakdown can be, flooded floors, loss of kitchen facilities and interruption to customer services.
Working through the minefield of "choice"
Within the pump industry there is an infinite matrix of choice. Pumps are designed with limited performance envelopes, but if operated within their design specifications will fit the project requirements perfectly. The science (or perhaps art) is matching the correct pump to the application.
This is where working with a specialist commercial kitchen pump system distributor can really pay dividends, saving time and stress in the search for the right product for the job.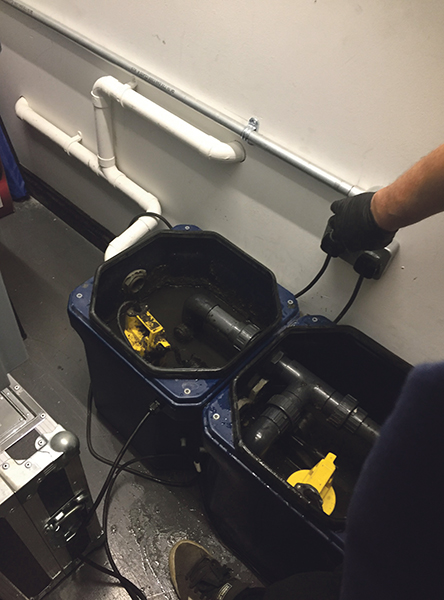 Application criteria includes:
Discharge head, required flow, type of waste liquid, fluid temperature, usage – available footprint, space envelope, venting, single or duplex pumps, alarms etc. Some of these criteria will not always be black and white!
Furthermore, not all pumps are "equal". Different manufactures claim the same function, but subtle pump design differences result in widely varying overall performance and reliability. This makes pump selection a potential minefield!
A good example of this is found in many fast food and coffee chains
In many of these locations, staff have taken to washing an excessive quantity of waste coffee granules and milk skin down the sink. This can often now be happening 24 hours a day, 7 days a week!
Because of this a unit such as the Pump Technology DrainMinor, fitted with the Jung Pumpen U3K Spezial submersible pump is the ideal selection.
Against the standard U3k (selected for "normal" wastewater use) this pump features a subtle, but critical design differential which results in a significant increase in reliability for this particular application.
In this case, the design feature that makes the difference is the seal between pump and motor. The U3K uses the normally reliable, three-fold radial shaft seal ring, whilst the U3K Spezial is fitted with a Silicon Carbide, mechanical rotating shaft seal, oil chamber and shaft seal ring between it and the motor section.
This means that the pump is far better protected from specific waste such as coffee granules and milk skin which could penetrate a stationary rubber shaft seal.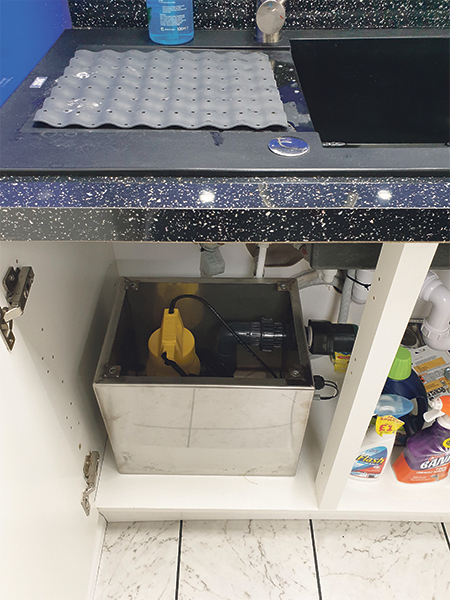 Cost Matters
However, the reason that the U3k Spezial pump may not always be selected could simply be one of price, since it is not always required and it comes with a premium of around 20%.
Every aspect of a pump's design and also that of the collecting tank has a specific purpose. Manufactures claim the same performance, but there are different results and asking a dedicated wastewater pump provider to help select exactly the right product will generally pay dividends in time, cost and long-term reliability for the commercial kitchen operator.
This brings us back to the benefits that a dedicated pump expert can offer.
As a specialist with over 26 years' experience in the field, Pump Technology Ltd, encourages designers and installers to work with their application team for advice and assistance with pump specifications and general pump queries.
Pump Technology Ltd.
T 0118 9821 555
www.pumptechnology.co.uk
www.jung-pumps.co.uk
56 Youngs Industrial Estate

Aldermaston
Berkshire RG7 4PW
UK
David Johnson
d
johnson@pumptechnology.co.uk

M 07984520515