Angus Dundee is an independent Company with over 60 years' experience in producing, blending, bottling and distributing top-quality Scotch Whiskies and other spirits.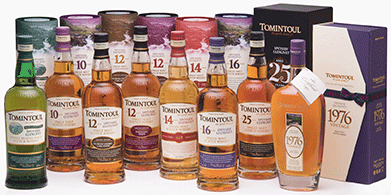 We own two malt distilleries: Tomintoul, which is located in the Speyside Glenlivet region, and Glencadam, in the Highland region of Scotland. We offer a comprehensive range of Scotch Whiskies, from blends to single malts and single casks available worldwide.
We export our whiskies to over 70 countries worldwide. We have won top industry awards for many of our single malt releases. Angus Dundee Distillers is also a leading provider of bulk whisky for local bottling as 'own-label' products.
The Tomintoul single malt core range consists of 8 products at various ages, (10 to 36 years old), and in various styles from peaty to sherry wood and portwood finishes. The most recent edition is Tomintoul Aged 25 years which comes packaged in a uniquely deluxe gift box.
The Glencadam single malt core range features 5 products at different ages, (10 to 21 years old) and in various styles like portwood and sherry wood finishes. The most recent release is the limited edition (1,128 bottles) 17 years old Triple Cask, Portwood Finish.
T +44 (0)20 7569 2000
sales@angusdundee.co.uk
www.angusdundee.co.uk