The 13th Annual GLINTCAP awards proved to be a success for Celtic Marches. Travelling over 3,700 miles, all six ciders returned to the farm as winners.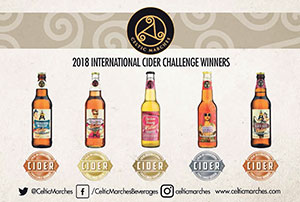 The Great Lakes International Cider and Perry Competition played host to 1,334 entries from around the world. The four day event takes place in Grand Rapids and features a wealth of ciders from commercial producers and amateur cider makers.
Celtic Marches creates craft cider on its farm in Bishops Frome, Herefordshire. Using only apples grown on its own farm, this single estate cider maker is having a very rewarding year. Recently winning awards for all its ciders entered in the 2018 International Cider Challenge, its ciders are proving a popular choice among judges over the pond.
Entering six of its ladies, the delicious drops each picked up a medal. With Slack Alice, slightly drier medium cider, and Cuckoo Penny, a hazy rhubarb infused apple cider, both picking up Silver medals, the team at Celtic Marches are over the moon.
The apples certainly don't fall far from the tree as the remaining four ciders all scooped a Bronze medal. Lily the pink and Thundering Molly's Bronze awards fell in the Traditional Cider categories, with Cracklin' Rosie, Celtic's sparkling pear cider, picking up a Bronze medal in the Modern Perry category. Its Ruby Tuesday, a fruity number, liberally imparted with British raspberry juice, capped it off with Bronze in the Fruit Cider category.
T 01684 569142
enquiries@celticmarches.com