The brand new, premium sipping gin from Berkshire-based Cookham Cocktail Club has been named world's best new contemporary gin, as well as the best English contemporary gin – 42% ABV and below.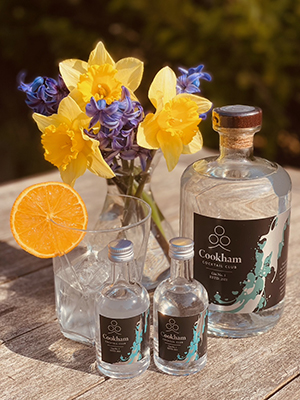 Brand new kick-ass premium sipping gin, Cookham Cocktail Club Gin No.5 (CCC Gin No.5) has scooped up two awards at the world's largest and most prestigious dedicated gin competition, The Gin Awards 2022. Taking home awards for the world's best new contemporary gin (42% ABV and below), and the best English contemporary gin (42% ABV and below), this outstanding achievement comes just a few months after Cookham Cocktail Club, a Berkshire-based at-home cocktail experience club, burst onto the scene.
Cookham Cocktail Club Gin No. 5 was created by Berkshire-based
Cookham Cocktail Club
and distilled by Henley Gin Distillery. Incredibly smooth, this premium gin is composed of 11 different botanicals, with a spicy kick from black and pink peppercorns, cinnamon and cardamom, balanced with yuzu peel and blackcurrant, resulting in a refreshing finish. Unlike other gins, CCC Gin No.5 is a unique sipping gin, designed to be enjoyed simply poured over ice, with a slice of orange. And while it still tastes wonderful with a mixer or in cocktails, to really allow the flavours to dance on the palette, neat is the way to go – just like a whiskey.
Founded by Julia Herd and Stephanie Maher in March 2022, Cookham Cocktail Club provides at-home cocktail tastings with distinctive drinks and enticing experiences. Alongside the Cocktail Club, the team decided they wanted to build their own portfolio of products, with CCC Gin No.5 the first – it was actually the 'fifth' of 11 iterations trialled.
Founder, Jules Herd, says: "When we launched the cocktail club, we wanted to create our own products too, and as gin lovers this was our immediate choice. Despite the fact that the gin market is incredibly competitive, I believed there was room for a top shelf, premium pour sipping gin that stands on its own without needing to go down the route of adding flavours or combining with mixers – although that is of course an option for those who don't like it straight.
"To be awarded not one but two accolades, two months after launch in The World Gin Guide Awards is absolutely mind-blowing."
The Gin Awards 2022 is the world's largest and most prestigious dedicated gin competition. Now in its 6th year, it serves to highlight the exceptional products, distilleries and people within the gin industry across the world. "A huge congratulations and credibility go to all the Winners, Highly Commended gins and Finalists. The Gin Guide Awards names a very small number of Winners in each category to ensure genuine exclusivity and to protect the value of the awards and its proven ability to guide trade and consumer buying decisions. It is why being a Winner in The Gin Guide Awards has become one of the most revered achievements in the industry," says Head Judge Paul Jackson, Founder and Editor of The Gin Guide.
Although Jules and Stephanie only launched the gin in December, they have already secured listing with the Karma Sanctum Hotel Group, select local boutique establishments, and are in conversations with a number of other luxury hotel chains. Moreover, they also try to work with local businesses where possible and have already developed a gin sorbet through partnering with Agosti Gelato. Their latest project sees them working with Moneyrow Beans on a gin espresso martini.
Cookham Cocktail Club Gin No. 5 has an RRP of £42 and can be bought directly from
Cockham Cocktail Club
, with further listings to be secured soon.
Suggested serve:
50ml gin, over ice, with a slice of orange
Or
50ml gin, over ice, with 50ml of tonic water, and a slice of orange