Kocktail has announced their first pop-up activation, coming to central London this April in partnership with the fresh pasta specialists at Pasta Evangelists.
Hosted as part of Covent Garden's Rosé Garden Party, which runs from 29th April to the 15th May, it will be the first pop up experience for the two doorstep delivery brands, who both started out as direct-to-consumer businesses.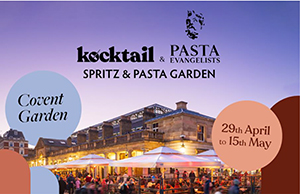 Visitors will have the chance to enjoy the 'Spritz and Pasta Garden' for the duration of the event, bringing a taste of Italian sunshine to the Covent Garden Piazza. Serving premium, freshly made cocktails and fresh, artisanal pasta, the space has been designed as the perfect backdrop for spring socialising.
As part of activity to mark the Rosé Garden Pop Up, Kocktail is launching a limited-edition Rosé Collection, with just 100 boxes available. Featuring two refreshing Rosé Spritz cocktails – Rhubarb & Cucumber and Lychee & Elderflower, the Collection will be sold directly from the 'Spritz and Pasta Garden'.
Co-founder of Kocktail, Andrew Hutchinson, said, "Our first ever central London pop-up, we're delighted to be working with the marvellous team at Pasta Evangelists to create something super stylish, delicious and unique. We can't wait to bring a taste of Kocktail to Covent Garden for this year's Rosé Garden Party."
Head Chef at Pasta Evangelists, Roberta d'Elia, said, "Our dream for our 'Spritz & Pasta Garden' is to transform London's most iconic piazza into a typical Italian square in springtime, where you'll find colleagues enjoying the pasta of the day over a long, languid lunch hour or friends catching up over an alfresco aperitivo after work. What better way to welcome in the warmer months?"

Well-timed to coincide with World Cocktail Day on Friday 13th May, to celebrate Kocktail and Pasta Evangelists will be hosting a VIP cocktail and pasta making masterclass at the pop-up that day. Most recently, Pasta Evangelists opened its doors to their first, standalone, Pasta Academy located in Farringdon. The perfect place for those looking to master the techniques of handmade pasta. With just 10 pairs of tickets to be won to attend the exclusive event, follow both Kocktail and Pasta Evangelists on Instagram for more news and updates on how to enter.
The partnership pop-up follows on from a recent collaboration box, 'The Kocktail for Pasta Evangelists Tasting Collection'. Available exclusively with Pasta Evangelists, it's tipped as the perfect duo to enjoy a restaurant experience from the comfort of home.
The Pasta Evangelists PASTA ACADEMY™ opened in April 2022 and is located at 62-63 Long Lane, Barbican, London EC1A 9EJ. Prices start from £45 for a 'Pasta Beginners' course. Their full schedule of classes can be viewed at: www.pastaevangelists.com/collections/pasta-school-with-roberta
What's on the menu?
Kocktail…
Rhubarb & Cucumber Spritz
Lychee & Elderflower Spritz
Espresso Martini
Chocolate Negroni
Cherry Cola Old Fashioned
Hepple x Fentimans Gin & Tonic
A selection of Fentimans soft drinks
Pasta Evangelists…
PAPPARDELLE AL RAGÙ with slow-cooked beef shin & Barolo wine
LEMON & RICOTTA TRIANGOLI with sage butter
ORECCHIETTE ALLA NORMA with datterini tomatoes and roasted aubergine
For more information on the event and to browse the online collection, visit: www.kocktail.co.uk
KEY EVENT INFO
Name of event: 'Spritz and Pasta Garden' at Covent Garden's Rosé Garden Party
Date: 29th April – 15th May 2022
Daily opening times: 11am – 9pm