Ouse Valley proudly presents, 'Spread the Word', a deliciously witty trio pairing the delights of food and literature.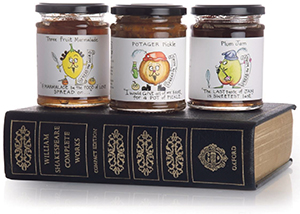 The jars feature fruity Shakespearean illustrations by the renowned illustrator and cartoonist Ann Edwards and a light-hearted synopsis of the play in question.
Ouse Valley was founded in 2004 by Julian Warrender in Lewes, East Sussex and from its conception, has been the recipient of multiple awards. The quality of ingredients is paramount, with the team committed to delivering products that impress an ever-growing customer base.
'Spread The Word' is a joyful trio, each one packed full of flavour. This new collection is a collaboration of Julian and Ann's desire to combine their love of good food and literature in a range that lifts the spirits and tickles the tastebuds.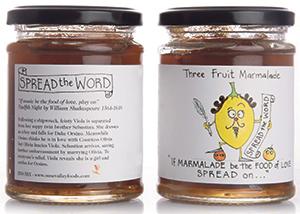 'Spread the Word' is available from January 2022.
Three Fruit Marmalade
A well-balanced blend of oranges, lemons, and grapefruit with a perfect bitter edge.
Julian's serving suggestion: As well being an excellent breakfast marmalade, it is superb warm, poured over a sponge pudding.
340g RRP £4.90.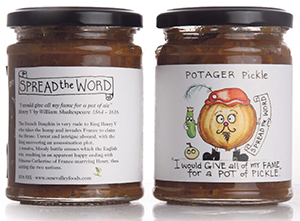 Potager Pickle
A deep golden pickle, made with a mix of courgettes and onions, sweetened by apples, apricots, and soft brown sugar. Turmeric and ginger also give an intriguing balance of sweetness and warmth.
Julian's serving suggestion: Excellent with pork pie, ham, or cheese.
300g RRP £5.60.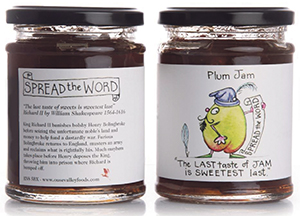 Plum Jam
Made with the finest Victoria plums, a fruit dear to our hearts.
Julian's serving suggestion: a perfect ingredient in braised duck or game dishes.
340g RRP £5.60.
*The range will also be available in a gift pack, with an RRP of £21.08*
Ouse Valley Foods, Unit B32, Bridge Farm, Barcombe Mills Road, Ringmer, East Sussex BN8 5BX
T 01273 400230
sales@ousevalleyfoods.com
www.ousevalleyfoods.com
Twitter/Facebook/Instagram: Ouse Valley Foods