Over the last seventeen years, Icertech has grown to be one of the trusted suppliers in the chilled packaging market, supplying a range of ice packs and insulated boxes.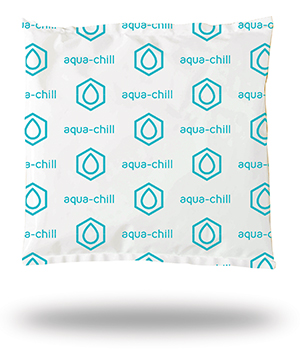 Having built a reputation as an independent manufacturer and supplier of high quality, low cost gel-based coolants, Icertech is now very excited to announce the launch of a water-based equivalent in April 2022 – our 'Aqua-Chill' coolants. Traditionally, gel-based coolants have proven popular on the basis that they provide a higher level of leak resistance (and do not ruin pack contents when they do leak), and they are also simpler and cheaper to manufacture in the most efficient way. However, despite the gel contents being drain-safe, and having multiple options for re-use, there is a growing concern amongst end users over disposal. This has led many market leaders to opt for water-based coolants for their product.
There is currently a lack of choice when it comes to water-based coolants for the 'Direct To Consumer' industry, with only a couple of manufacturers in the UK offering such a product. As a result, the market pricing can be somewhat high, coupled with an insufficient level of customer service, especially for smaller businesses. Through our years of experience and development of robust and efficient internal processes, Icertech is proud to be supporting the growing 'Direct To Consumer' market for our Food & Drink customers, enhancing the supply chain and driving forward competitive pricing within our industry at a time of ever-increasing prices. Icertech will be launching its Aqua-Chill with pallet prices for our 500g and 1kg coolants set at 18p/each and 28p/each respectively (Excl. VAT, Ex Works). Our efficient-to-manufacture single-pouch coolant format delivers the best level of performance at the most cost-effective price for the customer
An unprecedented amount of investment has been made on a bespoke machine built in Germany that is suited to liquid fill applications of this type. The company has performed trials on many different films from several suppliers to identify a laminate film that provides a high level of puncture and leak resistance, while still being 100% recyclable. Welsh tap water is taken through a triple filtration process – micron, carbon & UV; before being purified through chlorination, ensuring the coolant contents are 100% food safe, and also safe should an end user accidentally consume the contents. Icertech has also invested in its water supply system to increase capacity, with a 20,000 litre master tank that is fed from an enhanced connection to the water main, which is then delivered via a dual pump and water batching system to serve the individual requirements of our four coolant production machines.
T 01978 661247
www.icertech.co.uk