UK-based alcoholic drinks producer, Halewood Artisanal Spirits, today launched a spooky app-based game in time for Halloween with its unconventional spiced rum brand, Dead Man's Fingers.
In partnership with digital experiences studio, Appetite Creative, the award-winning rum brand, has been paired with a 'fruit machine' app-based connected experience to drive website traffic and purchases during the Halloween period.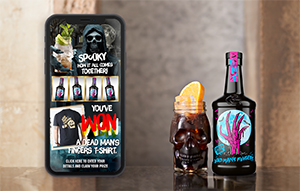 The new game, accessed via QR codes found on wooden cocktail stirrers served with the favourite rum flavours, offers users instant prizes including branded caps, t-shirts, beach towels and lanyards, bringing frightening interactive fun to customers this Halloween. The QR code game will be activated in over 700 pubs in the UK and will be live for the whole month of October.
"Today, the focus of the brand continues to be around challenging convention and having fun with new and exciting flavour combinations, and our new connected experience does just that with this spooky Fruit-Fright experience. We are seeing an increase in consumers looking to celebrate occasions like Halloween for longer, meaning that it is becoming more than just a one-day event," said Graeme Sharp at Dead Man's Fingers.
"We had a brilliant time working on this very fun and cool branded experience – taking all of the spookily stylish Dead Man's Fingers graphics – to create an interactive, fun and compelling user experience," said Jenny Stanley, Managing Director at Appetite Creative.
The Fruit-Fright game offers players the opportunity to 'press the skull' and spin the reels, with matching Dead Man's Fingers bottles, instead of fruit icons, delivering instant prizes. The app collects user data to help inform future marketing campaigns and drive users to store.
The Dead Man's Fingers range now includes a whole host of popular flavoured variants, including Coconut, Pineapple, Mango, Hazelnut and Passionfruit. Every flavour in the range has been created to be enjoyed straight, over ice, or as a base for a range of cocktails.