Caleño will be on shelf from 1st October in time for Sober October
Caleño, the non-alcoholic tropical spirit inspired by the flavours and culture of Colombia today announces it has secured a second national supermarket listing with Waitrose.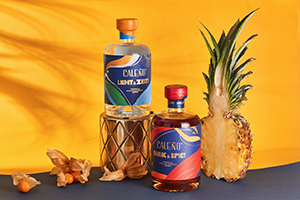 The alcohol free-spirit brand (50cl bottle) will launch it's Dark & Spicy spiced rum alternative into select Waitrose stores on 1st October in time for the popular national initiative Sober October, with a national roll-out planned for the new year alongside Caleño's Light & Zesty variant. Caleño is also currently listed in Sainsbury's stores across the UK.
The new listing comes in a year when the brand has achieved triple digit growth and is currently expanding into new European markets.
Caleño was founded in the UK by Ellie Webb (30), who was frustrated by the lack of choice in alcohol-free drinks. Inspired by the vibrant and energetic culture of her Colombian heritage, she set out on a journey to combine the sunny South American lust for life with her tropical non-alcoholic spirits and has created two unique flavour-led spirits – Caleño Light & Zesty and Caleño Dark & Spicy.
Caleño Dark & Spicy is a distilled golden and spicy non-alcoholic alternative to rum, packed with pineapple tropical notes, ginger and kola nut spices and Caleño Light & Zesty is a tropical infusion of juniper berry, pineapple, papaya, green cardamom and the golden South American Inca berry. Both spirits are vegan, sugar free, sweetener free, allergen free and free from any artificial flavourings.
Caleño's focus is not just on providing delicious alternatives to its alcoholic counterparts, but also changing perceptions around not-drinking by bringing a vibrant, energetic brand with joy at its core to the category.
Ellie Webb, Caleño founder, said; "As we see consumers continue to seek delicious alcoholic free alternatives and the non-alcoholic spirit category continues to grow year-on-year, there is no better time to welcome Caleño and our Dark & Spicy spirit to the Waitrose customer base in time for Sober October."
Ellie continues: "We at Caleño are on a mission to bring the joy to not drinking and change people's views of what it means to drink less alcohol. We know more and more people want to have a balanced approach to drinking and through Caleño, they can still enjoy a delicious drink or cocktail while achieving this. We are absolutely delighted to have the support of Waitrose to help drive our mission and bring more drinkers into an exciting and thriving category."
John Vine, spirits buyer at Waitrose, said: "We are delighted to welcome Caleño into Waitrose at a time when more and more consumers are exploring alcohol free spirit alternatives. Caleño's focus for creating award-winning liquids that put the joy into not drinking makes them a great partner for Waitrose."
Caleño's Dark & Spicy and Light & Zesty will be available through Waitrose in-store and online (RRP £18) for 50cl). The Dark & Spicy signature serve is 50ml Caleño over ice, topped up with ginger ale and a generous squeeze of lime. The Light & Zesty signature serve is 50ml Caleño over ice and topped with tonic and a tropical garnish.
Find out more: calenodrinks.com
Twitter / Instagram: @calenodrinks