Brammer Buck & Hickman, the UK's leading supplier of industrial maintenance, repair and overhaul (MRO) products and services, is hosting a new webinar on 21st October, presented by SKF, on bearings in the food & drink industry.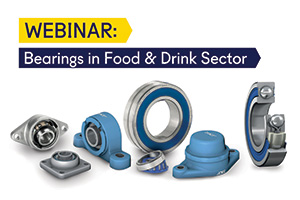 The new webinar, designed for engineers and those responsible for operations and maintenance, examines the key issues that impact on bearings in the food & drink sector, with a focus on reducing risk when it comes to food safety.  It identifies bearings that are best suited to this industry, including a preview of the latest products and technologies due to be released shortly.  The value of technology upgrades is covered, using real world examples, along with how to manage lubrication as a strategy.
The webinar will be presented by Brammer Buck & Hickman's dedicated SKF Bearings Product Manager, Alan Stewart, and hosted by David Oliver, Channel and Platform Manager Bearings and Units, Industry Manager – Food and Beverage at SKF UK.  David is well known and respected, with 16 years at SKF and over 40 years in the industry, so his knowledge and insight is invaluable.  The Q&A session held at the end of the webinar is an ideal opportunity to quiz these bearings experts!
To register on the free webinar on bearings in the food & drink sector on 21st October visit here. There are two sessions available on the day, 10.30am and 2.00pm, lasting 45 minutes per session.
Brammer Buck & Hickman is part of the Rubix group. With turnover of more than €2.3 billion in 2018, Rubix is Europe's largest supplier of industrial maintenance, repair and overhaul (MRO) products and services.   For more information, go to uk.rubix.com