Consumers today are inundated with product marketing, but one way to ensure food and beverage products stand out from overcrowded retail shelves is by maximising its visual impact.
People are, by nature, visual beings. Effectively using attractive and informative labels and packaging that are visually stimulating can mean the difference between a shopper remaining brand loyal or making the switch to a new product.
"As a customer, the label should always make me want to grab the product for a closer look," says Susan Ellison, joint MD at OPM (Labels and Packaging) Group ('OPM'). "But as a printer of labels, I must study every millimetre of a label, front and back, for visual appeal, originality of decoration and overall quality. This is where a printer can become a valuable partner to the brand owner, through the ability to create a printed label that resonates with the consumer and encapsulates the brand narrative of the product, while making it stand out among its competitors."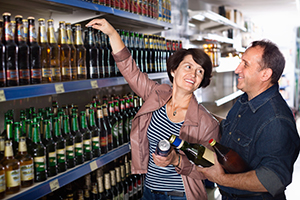 A great label makes a statement and helps potential customers decide whether the product is right for them. Colour, typography and other decorative design elements enables a brand story to be visually communicated at the point of purchase, while innovative and smart labels enable engagement between brand and consumer to continue long after.
"Consumers all have their favourite tipple or food. But how do you go about attracting the attention of someone who is brand loyal? The answer can be simple. If you design a label that resonates with consumers, they will try your product. Part of a label's effectiveness is that it should be clear and concise in its design and description," Susan points out.
Consumers care about provenance and brand narrative. They want to understand more about how a product is made, along with the values and principles held by a brand. Incorporating these messages on to a label is key to consumer engagement in today's competitive retail environment.
Peelable and multi-layer labels allow a large amount of information to be included but if carefully curated, a label can say a great deal about a brand through graphics, texture, substrate with very few words required.
Furthermore, interactive labels that use QR codes enable consumers to access brand information at the click of a button, wherever they may be – at home, in-store or on-the-go. They also allow brands to take engagement to the next level and respond to the need to be 'present' long after the buying or consumption experience. For example, alcoholic beverage brands can incorporate QR codes that link to cocktail recipes or recipes for meals that pair well with a certain wine; sports drinks could link to an exercise/workout schedule; and soft drinks to ideas for family days out.
"A decorative label might be attractive by itself, yet it needs to stand out among similar products on shelf or in online storefronts. It needs shelf shout," Susan explains. "Fortunately, label designers can let their imagination run wild by offering a variety of different formats too. It is so critical to work with a trusted printer that can bring these ideas to life. Some of the most innovative formats for example on alcohol beverages can include reverse printing – referred to as the hidden selling space. Printing on the back of a label reduces the content on a label's face side and minimises clutter. It's a great way to add extra information or promotional content without compromising the look and feel of the brand."
There are a variety of papers, films, and specialised materials available to food and beverage brands to accommodate the most innovative design ideas and meet sustainability goals. These include clear-on-clear films, metallised papers and films, glossy bright white materials, laminated foils, and traditional uncoated papers – in a vast range of colours and textures.
For food packaging and labelling, substrate choice is particularly important. While needing to draw attention on shelf, it must also be functional and therefore suitable to be stored in a fridge or freezer and used in a microwave or oven.
"Importantly too, a label must meet strict legal requirements. This is set out according to a specific set of regulations: Regulation (EU) 1169/2011, which states that the name of the product must be clearly legible, details about alcohol content (if present) must be correct, as well as the warning messages and ingredient listing. Once the criteria are met, designers can focus on the message, stated, or understated, that the producer or manufacturer wants to convey," Susan explains.
"A label will be successful if it works on three levels. First, when you see it across the aisle, you must be drawn to the brand's personality. Secondly, the label should be clear, simple, and have a hierarchy of information, and lastly, the consumer should be able to engage when they reach for their smartphone or laptop to learn more about the product and its history. If the brand owner achieves this, then they have created a great label," Susan enthuses.
So, how should the brand owner determine the best label for their product? "If possible, it is ideal to bring your printer on board from the concept stage, because they can encapsulate your brand designs into the ideal label solution," Susan explains. "Do not leave the labelling stage until the end; it should never be an afterthought, but an integral part of product development."
Working with an expert labelling partner pays dividends in the long run because the label determines how professional the product looks on the store shelf.
"The label is the first part of the product the customer will notice, and the label choice reflects what brand owners want to say about the product, what the product says about the brand, and how the product will make you feel. Imagination separates great labels from average ones, so discuss your options with your printer," Susan concludes.