Food and Drink Matters is proud to announce that Shanty Spirit has been selected as our Botanical Vodka Company of the Month.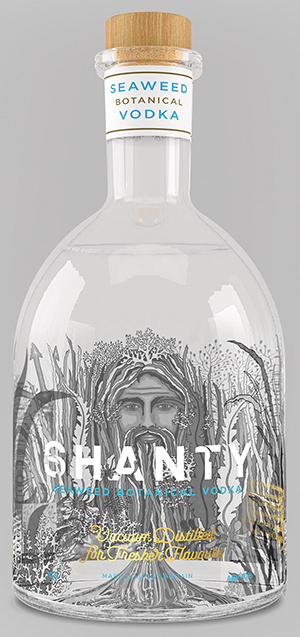 Shanty Spirit has developed a unique botanical vodka infused with seaweed, evocative of the UK's rugged coastline. Founder, Hugh Lambert, spent two years researching the ingredients, distilling every seaweed he could find around the UK and testing different techniques to find the flavour he was looking for.
During the research stages, Hugh discovered that there were a few gins around that used seaweed, but nothing that brought the flavours to the fore and celebrated them specifically in the way he wanted to. "They were listed in the botanical line-up, not as a key flavour of the drink. Shanty® is unique in that it focuses on the flavours of the seaweeds. Many people don't realise that the UK actually has some of the best seaweeds in the world around its coast, so there is nothing else quite like this on the market."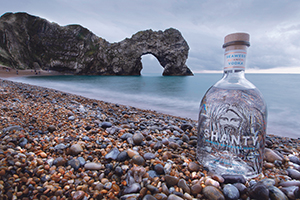 But why a vodka? Hugh realised there was a clear market for people that wanted a spirit with an intricate flavour, but were not a fan of juniper, the essential botanical of gin.
"I wanted it to be a complex spirit, and the final product contains five different seaweeds as well as other botanicals, such as wasabi and bergamot, to add intricate top notes to the product. It is also vacuum distilled, which means the botanicals are distilled at room temperature under vacuum, rather than the traditional method of cooking them at around 70°C. We tried both methods, and the vacuum method provides a much fresher flavoured distillate for all the botanicals, which are individually distilled and then blended by hand.
"After perfecting the recipe with Strathearn Distillery in Scotland, we launched the vodka last year at the Weymouth Seafood Festival and it went down really well. People were really pleased to see something different from the botanical gins on the market, and the seaweed element really grabbed people's attention and curiosity.
"The whole point of developing this vodka was to connect you to the ocean through taste. I wanted to create an evocative spirit of the sea, as our country's shoreline has always played a huge part in my life. We're not moving mountains, we're shifting seas, if you will, and it means even if you're in the centre of London, you can have a refreshing cocktail that takes you right back to the coast."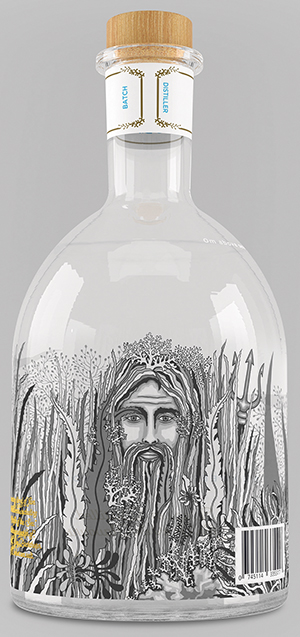 Indeed, as well as being delicious enjoyed as a sipping vodka or on the rocks, it adds a refreshing twist to some classic cocktails and complements seafood beautifully. Shanty Spirit's website features a number of cocktail recipes to try, offering an oceanic take on a Bloody Mary, Martini and many others.
What's more, it's not only Shanty®'s flavour that's unique. The vodka comes in a distinctive bottle decorated with intricate artwork inspired by the sea. "I wanted it to be something really sturdy and ergonomic, like a ship's decanter. So it's short and squat, nice to hold on to, and a nod to a bottle that could've washed up on a beach."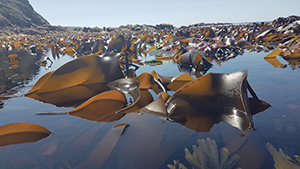 The bottle also features a punt at the bottom, evocative of a wave or seabed, and the artwork wraps all around it to offer something different depending on which angle you are viewing it from. "All of the seaweeds are represented in the artwork, and we also have a 'spirit of the sea' figure with a trident. We're big on the war against plastic on our beaches and improving the quality of the ocean – this is where our flavours come from and we believe it's so important to protect it. We also use organic ink which is kiln fired on to the bottle, and 5% of our profits go to charities involved in cleaning the ocean. We want to make sure we're an ethical company and helping to protect the very origins of the products we create."
After the disruption caused by the COVID-19 pandemic this year, Shanty Spirit is looking forward to getting back to customer facing scenarios so people can experience the vodka first hand. "We'd booked into every food and drink show we could this year, but then they obviously all got cancelled, so we really want to be able to get face to face with customers again. We're continuing to develop the product, and we've entered into the Great Taste Awards so we're looking forward to seeing the outcome of that."
With a market that is inundated with thousands of different spirits and flavours, it is certainly refreshing to see something as unique as Shanty®, one sip of which will take you right back to the UK's beautiful coastline. To find out more information, head to the website, check out their Instagram feed or get in touch using the contact details below.
M +44 (0)7979 237649
contact@shantyspirit.com
www.shantyspirit.com
@shantyspirit